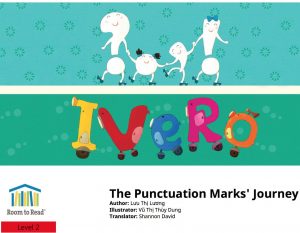 The comma, the full stop, the exclamation point and the question mark all live together in a book. Is there enough room for all of them?
This is a fun story and helpful for children to remember where the punctuation marks go in a sentence, suitable for early grades learning about using punctuation. The story explains the uses of the full stop, comma, exclamation mark, and question mark.
Author: Lưu Thị Lương
Illustrator: Vũ Thị Thùy Dung
Download the full book of The Punctuation Marks' Journey or read the flipbook online by selecting the green buttons below this post, enjoy!
Text from The Punctuation Marks' Journey
This is Exclamation Mark, Full Stop, Question Mark and Comma.
They are punctuation marks who need a job in this book, but they aren't sure where to go.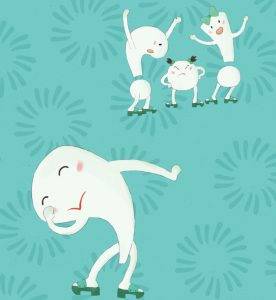 Letters and words are zooming about, trying to form sentences.
Where do the punctuation marks fit in? What should they do?
"Well, I know where I belong," says Full Stop.
"I always stand at the end of a sentence."
"No, I go at the end of a sentence!" says Question Mark.
"No way!" yells Exclamation Mark.
"I'm the one who belongs at the end of a sentence!"
Nobody can agree, and the letters and words just keep zooming around in confusion.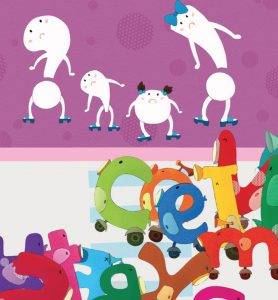 "What will we do?" asks Comma.
Comma stands in the middle of bickering punctuation marks and tries to separate them.
"There is room for all of us among these words and letters," says Comma. "Let me show you."
"You're right, Comma," everyone says, "we're tired of arguing. Show us what to do!"
Comma shows the other punctuation marks how he does his job. Comma organises all the words into a list, and stands between each word, separating them to make the list easier to read.
Now that Comma has found where he belongs, can Question Mark, Exclamation Mark and Full Stop figure out what kind of sentences they should make?
The full stop is placed at the end of declarative sentences, like this one.
The exclamation mark is used to express emotions, like happiness, anger or excitement!
And do you know what kind of sentence ends with a question mark?
Don't forget: the word that comes after Question Mark, Exclamation Mark and Full Stop should start with a capital letter, because it will be the beginning of a new sentence.
While the punctuation marks were talking, they remembered the letters and words zooming around in confusion.
"We have an important job," the punctuation marks say. "Look how confused the letters and words are without
us!"
Now the punctuation marks know what they need to do.
End of text from The Punctuation Marks' Journey?
Do you know what to do with punctuation marks now? We hope so!
See more books from the same publisher, Pratham and Storyweaver in our Pratham-Storyweaver category, or visit the Storyweaver website.
If you are looking for school resources see more K-12 resources in our K-12 School Textbooks category.
See more of our English Language books below