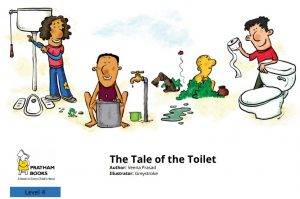 The Tale of the Toilet is a delightfully entertaining non-fiction story bound to entertain children and inspire learning about the history of plumbing and toilet that dates back from a very long time. How toilet are similar or different from other parts of the world.
From all around the globe everyone has the same problem "the stink" with regards about the toilet and doing the no. 1 even Queen Elizabeth of England who had a toilet constructed inside her house. Until the year 1775, the English inventor Alexander Cumming figured out a way. Instead of using a straight pipe to connect the toilet to the sewage line, he made it S-shaped.
Author: Veena Prasad
Illustrator: Greystroke
Sample Page from The Tale of the Toilet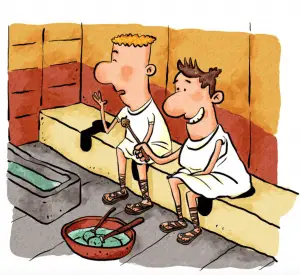 It's a big job, it's number one priority and number two is pretty
important too, because you can never ignore nature's call. So when you gotta go, you gotta go!
Some people can do this business inside their houses, some have to go outside. Some pour water after it's done, others need not.
It's different in different parts of the world, just as it was different at different times in history.
<End of Page 1>
Another great free STEM non-fiction book for primary and elementary school children from Pratham's Storyweaver platform.
About Pratham Books
Pratham Books goes digital, FKB  is helping with their aim to get a book in every child's hand!
Storyweaver, their digital platform is provided to weave a whole new chapter in the realm of multilingual children's stories. Knitting together children, authors, illustrators and publishers. Folding in teachers, and translators. Creating a rich fabric of openly licensed multilingual stories for the children of India and the world. Their unique online platform, StoryWeaver, is a playground where children, parents, teachers and librarians can get creative, using the resources to make your own unique books online.
About Creative Commons
Content under Creative Commons licenses can be downloaded, translated and can even be used to create new stories ‐ provided you give appropriate credit, and indicate if changes were made. To know more about this, and the full terms of use and attribution, please visit the following.
See more History books below
See more books by Pratham's Storyweaver below
---
Sponsored Links:
Note – if you sign up through these links, it doesn't cost you any extra, but FKB receives a small donation, which helps us with our project to buy more FREE Hardcopies   for kids who need them

All our posts are checked by Grammarly, the FREE online grammar checker (We still receive a donation even if you only sign up for the free account :-):