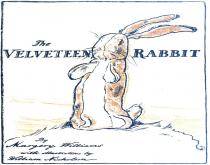 The Velveteen Rabbit – In this classic tale of a much loved toy, Margery Williams explains the magic behind toys and how they become real.
Note: The Velveteen Rabbit is an open source book, that is, it is available in the public domain due to an expired (or unregistered) copyright. Although we don't normally publish public domain books, this book is considered worthy of an exception.
By: Margery Williams, compiled in pdf by Danielle Bruckert
Excerpt: There was once a velveteen rabbit, and in the beginning he was really splendid. He was fat and bunchy, as a rabbit should be; his coat was spotted brown and white, he had real thread whiskers, and his ears were lined with pink sateen. On Christmas morning, when he sat wedged in the top of the Boy's stocking, with a sprig of holly between his paws, the effect was charming. <End of Paragraph 1>
About the Author:  Born on July 22, 1881 in London, England – September 4, 1944 in New York City) Margery was an English-American author, primarily of popular children's books. A professional writer since the age of nineteen, she achieved lasting fame at forty-one with the 1922 publication of the classic that is her best-known work, The Velveteen Rabbit as published here.
Read Along with the YouTube Video of Velveteen Rabbit
Approximate reading time 25 minutes.
Suitable for a bedtime story for children with longer attention spans.
Reading Comprehension
Text with Reading Comprehension Questions at the end for each chapter – http://booksforlearning.com.au/classics/books/velveteen/VelveteenRabbit.pdf
See more Classic Books below