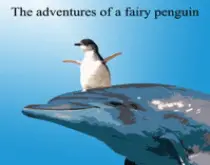 Three-P – an unsuspecting fairy penguin adventurer, musketeer, and hero. Three-P fights peer pressure and prejudice, but follows his heart and in doing so learns the value of friendship, and how to be a real hero.
By: Nick Creech
Sample Page from Three-P:
The word flew around Mickleburrow like a school of pilchards exploding before a hungry bluefin tuna. Three-P – that is to say, Pengelly Perceval Puddle – had really done it this time.
Oberon heard it from his valet. He had just finished consulting his diary and was choosing a bow tie suitable to the day's events. He was reaching forward, about to select a symphony in royal blue silk with particularly regal gold stripes, one of his favourites,
when his valet began to whisper deferentially in his ear. Oberon froze. It was too much, altogether too much. Angrily, petulantly, he rejected the blue tie and chose instead a fierce scarlet. It exactly matched his complexion.
Titania heard it from her maid and like Oberon, first she was flabbergasted and then furious. She banged her crown on her head any old how, winced and marched forth, the pearls at her throat swinging aggressively.
Mr and Mrs Puddle heard it from a neighbour, Mrs Stickybeak, who was just bursting with the news, and with barely suppressed glee. They looked at each other resignedly.
"I'm going fishing," Mr Puddle said in a low voice and hurried off, ignoring Mrs Puddle's squawk of protest. Not knowing whether she was more upset by her son's latest escapade or by her husband's cowardice in the face of it, she retreated into her burrow to
make a nice shell-full of raw fish broth.
Genevieve Longbottom was mincing down Main Street attracting admiring glances when she was stopped by a girlfriend.
"You'll never guess!" she said, and began to chatter furiously. Genevieve drew in a long, delicious breath the better to savour the situation.
< End of Sample Page from Three-P >
About the Author: 
One of our popular writers for older children has several longer length books on out site. His book A Way with Dragons (formerly Here Be Dragons) is in our top 10 list and has been for some time with over 500,000 downloads. 
Nick Creech is a former newspaper journalist. He has two sons, both now successful and more-or-less responsible adults who still deign to talk to him from time to time in tones of kindly condescension. He has a wife who does the same, mostly.
Since leaving journalism he has written extensively for children, young adults and people of all ages who just enjoy a story.