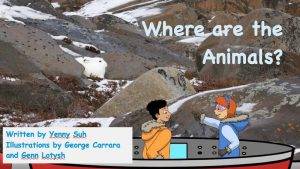 Word Scientists are back with another great early reader, this time our student conservationists, Peg and Datiz are in search of Arctic animals. Peg and Datiz see, or almost don't see, many camouflaged Arctic animals, and finally find a polar bear.
This book is suitable for developing Readers.
This book is available in an editable version for educators or students to add to or create new versions of the book.
Sample Text from Where are the Animals?
Ms. Lee tells her class about animals in the Arctic Circle.
There are many animals living in the Arctic.
Peg and Datiz go to the Arctic Circle.
They hope to see a polar bear.
Let's find out what they see there.
Thump, thump, thump. "Look, it's an Arctic hare!" says Peg.
"Where?" asks Datiz."Behind the rocks," says Peg.
"Oh, it looks like snow over dirt," says Datiz.
<End of sample>
Download or read online the full book by selecting one of the buttons below the post.
Download the editable version here: Where are the Animals? Are Editable.
This story was brought to us by Word Scientists, if you enjoyed this story, see more stories from Word Scientists below.