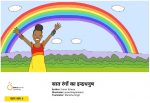 सात रंगों का इन्द्रधनुष – 7 Colours a Hindi Story is a fun picture book about the colors of the rainbow and where we can see these colours in everyday life. This is perfect for children speaking Hindi as a first or second language to learn to identify colours in their own native language.
This is a Hindi Level 1 picture book from Pratham's Storyweaver. Perfect for young readers who wanted to start reading with guidance from parents. This picture book has beautiful colourful pictures that illustrate the concepts in the story.
सात रंगों का इन्द्रधनुष (Hindi), translated by Manisha Singh (© Manisha Singh, 2015), based on original story 7 Colours of a Rainbow (English), written by Caren Echesa , illustrated by Jesse Breytenbach , published by African Storybook Initiative (© African Storybook Initiative, 2015) under a CC BY 4.0 license on StoryWeaver. Read, create and translate stories for free on www.storyweaver.org.in
Sample from सात रंगों का इन्द्रधनुष – a Hindi Story
इधनुष म कौन से सात रंग होते ह?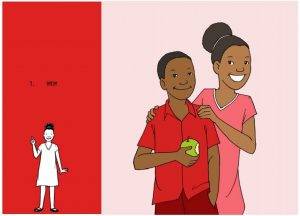 1. लाल
मेरे दोत ने लाल रंग क शट पहनी है।
2. नारंगी
या आपको नारंगी रंग क चीज़
दखाई दे रही ह?
3. पीला
या आपको पीले रंग क चीज़ दखाई
दे रही ह?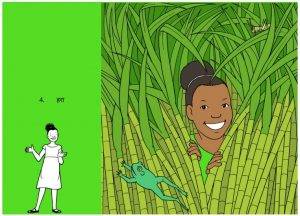 4. हरा
यहाँ हरे रंग का या-या है?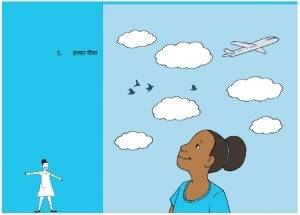 5. हका नीला
इस च म हके नीले रंग का या है?
6. गाढ़ा नीला
इस च म गाढ़े नीले रंग क कौन सी
चीज़ ह?
7. बगनी
मुझे तो बगनी सबसे यादा पसंद है।
आपको कौन सा रंग पसंद आया?
अब आप बताओ इधनुष के सात रंग
कौन से ह।
<end of 7 Colours of the Rainbow – A Hindi Story>
'7 Colours of a Rainbow' was published on African Storybook, adapted by Jane Taylor and African Storybook © African Storybook Initiative 2015 www.africanstorybook.org with the Vision of providing children with an open access to picture storybooks in the languages of Africa to develop their literacy, enjoyment and imagination.
सात रंगों का इन्द्रधनुष English Version below:
7 Colours Of A Rainbow – A cute picture book that teaches the colours of the rainbow and where those colours can be seen in nature and in daily life. Perfect for very young children learning colours and english words. This book is by Caren Echesa and illustrated by Jesse Breytenbach.
See more books in Hindi below
See more books about Colours below
---
Sponsored Links:
Note – if you sign up through these links, it doesn't cost you any extra, but FKB receives a small donation, which helps us move towards our aim of
FREE Hardcopies!  
All our posts are checked by Grammarly, the FREE online grammar checker (We still receive a donation even if you only sign up for the free account :-):