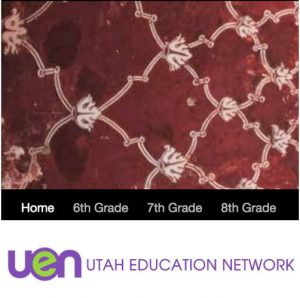 The 8th Grade Math textbooks set is separated into 10 sets of ebooks by subject. Each subject consists of: Mathematical Foundations which explains the mathematical content of each chapter, a Student Workbook containing exercises with an overview of the chapter, daily class activities and matching homework sets, practice standards, student self-assessments, and a Parent Manual (teacher guide) which mimics the student workbook but with selected answers and explanations.
All materials are printable and licensed under Creative Commons, cc-by 4.0. Thus these are all open source.
Download the links here below, or Visit Utah Middle School Math Project Page for more.
8th Grade Math Textbooks UEN
8th Grade Textbook (Complete Mathematical Foundation)
8th Grade Workbook (Complete Student Workbook)
8th Grade Mathematics (by chapter)
Preface
Table of Contents
Appearances of Standards
Ch 1: Analyze and Solve Linear Equations (4 weeks)
Ch 2: Proportional and Linear Relationships (4 weeks)
Ch 3: Representations of a Line (3 weeks)
Ch 4: Simultaneous Linear Equations (3 weeks)
Ch 5: Functions (3 weeks)
Ch 6: Statistics — Patterns of Association in Bivariate Data (2 weeks)
Ch 7: Rational and Irrational Numbers (3 weeks)
Ch 8: Integer Exponents, 3D Measurement Problems(4 weeks)
Ch 9: Geometry I — Transformations, Congruence, Similarity (3 weeks)
Ch 10: Geometry II — Angles and Triangles (3 weeks)
6th Grade Math Student Materials – Utah Middle School Math Project
7th Grade Math Student Materials – Utah Middle School Math Project
Secondary Mathematics
 Secondary Mathematics I
 Secondary Mathematics II
 Secondary Mathematics III
See more of our K12 Free School Textbooks Below
---
Sponsored Links:
Note – if you sign up through these links, it doesn't cost you any extra, but FKB receives a small donation, which helps us move towards our aim of
FREE Hardcopies!  
All our posts are checked by Grammarly, the FREE online grammar checker (We still receive a donation even if you only sign up for the free account :-):


This site is hosted by Bluehost:

Leave a comment (it won't be public) if you want help getting your own website cost-effectively.  </span