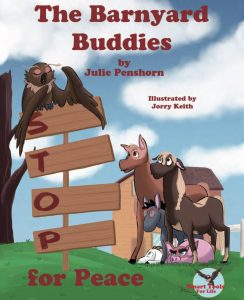 The Barnyard Buddies STOP for Peace – Teaching kids conflict resolution – is an endearing picture book with an important lesson on life skills. The animals in the story have a problem, someone is not sharing. As they lament over their woes, anger rises, and with anger is chaos. Until one wise friend gives a helpful piece of advice: STOP!
Conflict is a part of life, but how we cope with it changes our lives. In this charmingly illustrated story, the Barnyard Buddies show children and adults, how solving a problem peacefully makes things better. They learn to use four simple, rhyming steps starting with Stop and breathe when angry, that young and old alike can benefit from practicing. This book gives families the tools they need to improve communication and get along.
What readers say about Barnyard Buddies STOP for Peace:
"There are two common responses we have towards conflict: we either avoid it or we attack the person who hurt us. By not talking about it, we enable its roots to grow deeper in our hearts, making a rather shallow issue become our source of bitterness towards another person. On the other hand, when we attack the person, we create an even bigger tension in our relationship. The book, The Barnyard Buddies STOP for Peace by Julie Penshorn, tackles the issue of conflict and how it can be resolved in a manner that would help everyone involved in the dispute come out of it better, not bitter. . . .I can say that buying this book is a very good investment . . . I cannot think of anything that I did not like about it. The author did a great job in this book, it deserves a 4 out of 4 stars rating!- Online Book Club
Images from The Barnyard Buddies – Teaching kids conflict resolution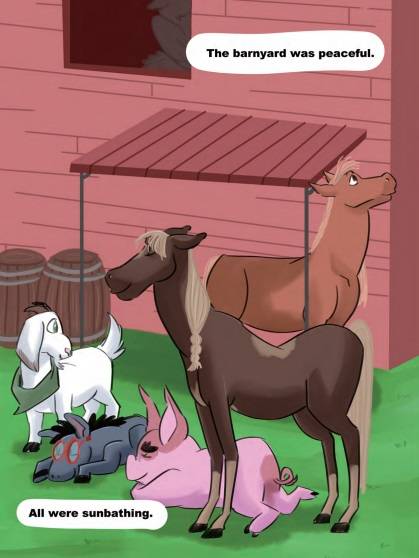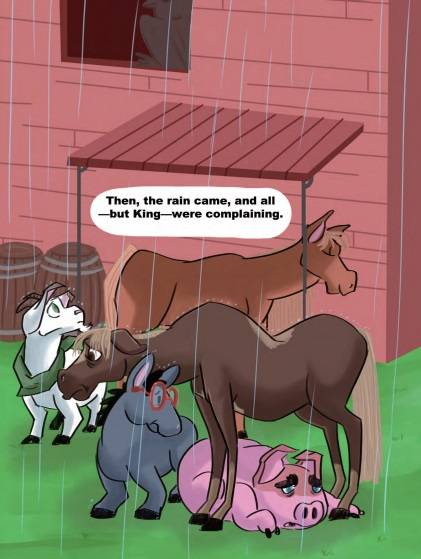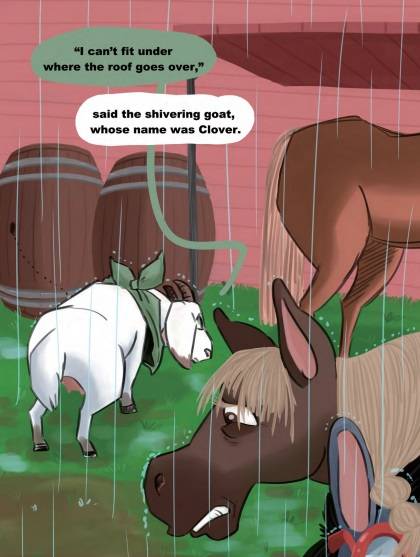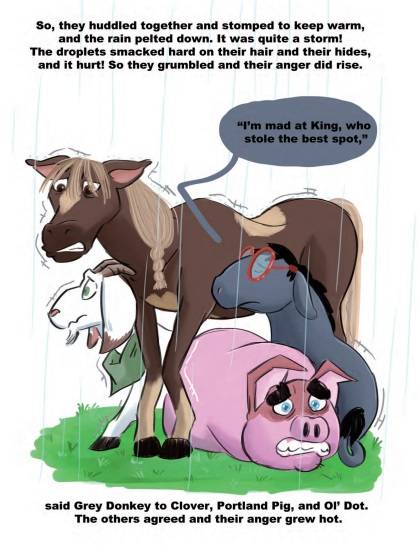 <end of sample>
Banyard Buddies teaches kids to stop and think and talk it out in a calm way. IT also gives a really cool rhyming acronym:
S – Stop and Breath: no one can talk calmly when angry, it's important to take a few deep breaths, become calm and so learn to develop perspective.
T – Tell how you feel: Talk out your feelings with the party you have a problem with, most conflict comes from not sharing feelings, remember to use "I" phrases, (not you).
O – Open your mind: Try to see the other's perspective, don't be closed only to your own way.
P – Plan a deal: Work out a solution that fits for everyone.
Approximate reading time: 5 to 10 minutes, depending on how much discussion you might have.
Following the book is further explanation of the S-T-O-P process, and some ideas for exercises, lesson plans, and a mentoring program plan for teenagers to help younger children learn to deal with conflict.
This book is also available on Amazon:  https://www.amazon.com/Barnyard-Buddies-STOP-Peace-ebook/dp/B073XWHTV3/ref=sr_1_1?ie=UTF8&qid=1527555089&sr=8-1&keywords=julie+penshorn
Julie Penshorn's Website, https://www.smarttoolsforlife.com, has some more great information for teaching life skills to children.
See more books about Diversity and Differences below
See more books about Animals below
---
Sponsored Links:
Note – if you sign up through these links, it doesn't cost you any extra, but FKB receives a small donation, which helps us with our project to buy more FREE Hardcopies   for kids who need them

All our posts are checked by Grammarly, the FREE online grammar checker (We still receive a donation even if you only sign up for the free account :-):