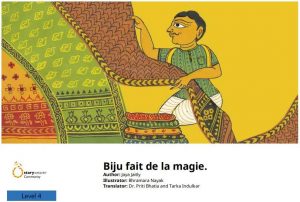 Biju fait de la magie – Biju Spins Some Magic French – This is a story about Biju a boy from a dusty village of Jilminda who came from a long line of handloom weavers. Unlike most of the other children, Biju does not go to school and was only able to know how to read and write by the help of his grandfather's teachings. He is going to have a long journey to Delhi with his Bapa to sell their saris and hoping for a better price. A story that showcases the culture and some of the traditions being observed in India and how does a young boy lives and sees life in this country.
Author: Jaya Jaitly Illustrator: Bhramara Nayak
Text and Images from Biju fait de la magi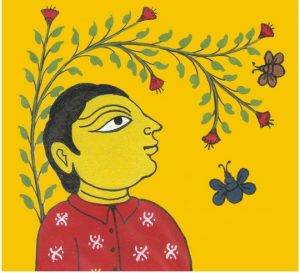 C'est un après-midi chaud dans le village calme et poussiéreux de Jilminda, près de Sambalpur, en Odisha. Biju, qui a neuf ans, est assis sous un arbre en attendant son père parce qu'il part avec Bapa faire un long voyage.
Une mouche bourdonne près de son oreille. Biju est fatigué à cause du soleil éblouissant et le claquement des métiers manuels venant des cabanes voisines. Donc il décide de dormir un peu en compagnie du chien brun qui partage l'ombre avec lui, mais ce chien halète si fort dans la chaleur que Biju ne peut pas dormir.
Comme les autres enfants de son village, Biju n'est jamais allé à l'école. Il veut étudier mais ses parents pensent différemment. Ils disent que c'est inutile d'apprendre des choses qui n'ont rien à faire avec leur métier de tisseurs. Il penserait à des choses futiles s'il allait à l'école et rêverait de travailler dans un bureau.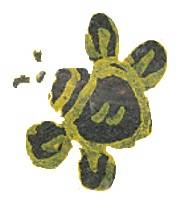 Alors Biju essaie de se convaincre que l'école n'est pas amusante du tout parce que les garçons qui y vont mènent une vie misérable et doivent porter de lourds sacs remplis de livres. Le frère de son ami n'a pas trouvé d'emploi, malgré le fait qu'il avait obtenu un «diplôme universitaire» après avoir fréquenté une école. Il est allé à Mumbai pour chercher un travail, mais ils lui ont offert des emplois dans un salon de thé, des kiosques à journaux et l'emploi d'un concierge. Alors, Il est rentré chez lui et aide maintenant son père à tisser des saris d'ikat, qu'il emporte de temps en temps à Mumbai pour les vendre à un grossiste.
<end of sample>
Read the full book by selecting one of the buttons below the post.
Biju fait de la magi English version below:
Read the English version using the above link.
See more books in French below