Comment résoudre un problème comme Himani – How to Solve a Problem Like Himani French: This story is inspired from the work of the Walking School Bus during its Himalayan Expeditions in 2018 where they encourage everyone to find suitable solutions and ideas on challenges that are specific to their community. Like in this story Himani along with her friends presents problems they had in their community and try to find solutions that they can make to improve their living conditions.
Author: Mala Kumar, Illustrators: Ruchi Shah, Students of Himalayan Public School
Text and Images from Comment résoudre un problème comme Himani
28 mars
Il fait super chaud. Golu a été très méchante aujourd'hui. Elle a grimpé en haut d'une pente et ne voulait plus en descendre. Quelle andouille, cette chèvre ! Seema et Gullu ont dû m'aider à la faire redescendre.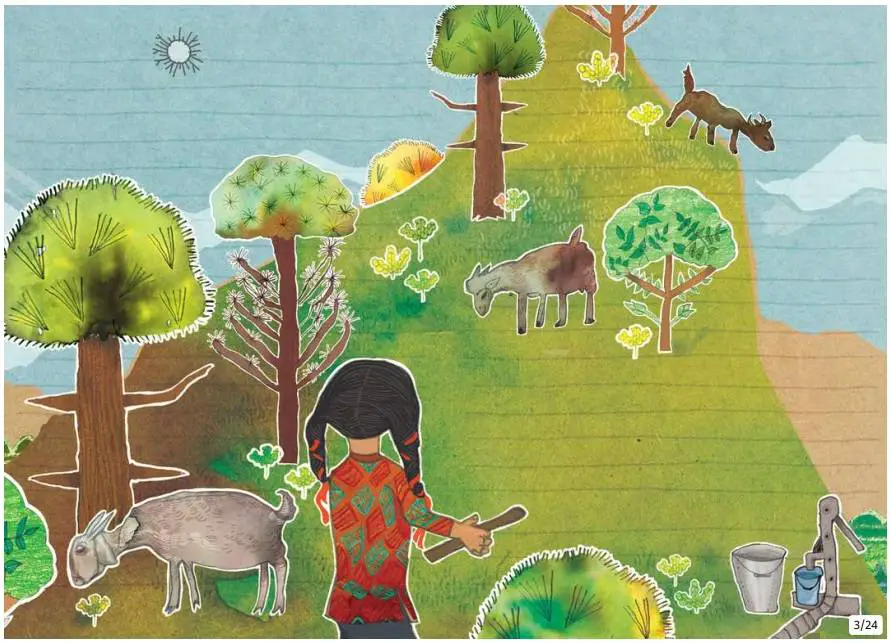 30 mars
J'aperçois les sommets himalayens recouverts de neige, le Nandakot, le Maiktoli, le Panchachuli et le Chaukhamba. Il n'y a pas de neige sur le Kumaon. Gullu et moi, on aide Ija et Baujyu* à récupérer de l'eau à la pompe, en bas de la route, ou dans le ruisseau. Pff ! J'aimerais que l'eau descende jusqu'à nous directement des sommets enneigés. C'est  difficile d'avoir de l'eau potable ici, même en janvier quand il neige. *Ija et Baujyu : maman et papa en kumaoni (langue indienne).
<end of sample>
Read the full book by selecting one of the buttons below the post.
Comment résoudre un problème comme Himani English version below:
Read the English version using the above link.
See more books in French below