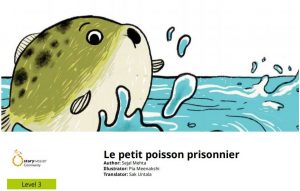 Le petit poisson prisonnier – Whoop, Goes the Pufferfish French – A pufferfish is trapped in a tide pool. Frightened the pufferfish swam in circles bumping rocks and puffs up to protect its self. This book has a lesson about the tide and how it creates tide pools that may trap little fishes in.
Author: Sejal Mehta, Illustrator: Pia Meenakshi
Text and Images from Le petit poisson prisonnier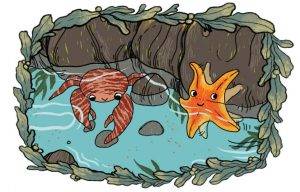 Il fait beau, ce matin, sur les côtes de Mumbai.
C'est marée basse, tout est calme dans cette petite mare.
Un crabe porcelaine rose est à la recherche de nourriture.
Une étoile de mer orange se déplace len-te-ment sur ses ventouses.
Euh… Tout est calme, il faut le dire vite.
Un bébé poisson-ballon est resté prisonnier de la mare formée par la mer en se retirant.
<end of sample>
Read the full book by selecting one of the buttons below the post.
Le petit poisson prisonnier English version below:
Read the English version using the above link.
See more books in French below