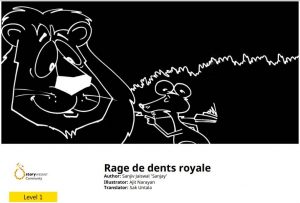 Rage de dents royale – The Royal Toothache – Colouring and hygiene French – The king of the jungle has a tooth ache that has been troubling him. No other animals would dare to come close to his teeth as they are all afraid of him aside from a little creature that was small enough to fit inside and save his majesty from the pain.
Author: Sanjiv Jaiswal 'Sanjay', Illustrator: Ajit Narayan
Text and Images from Rage de dents royale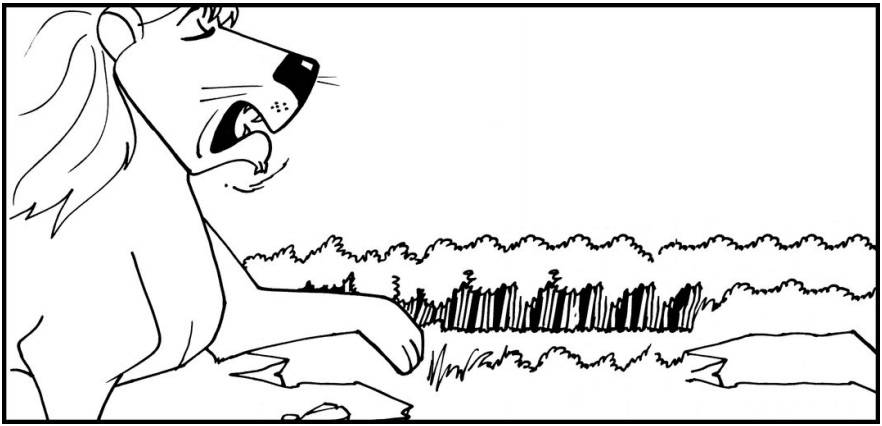 Le lion était le roi de la jungle.
Tout le monde tremblait de peur et d'effroi lorsqu'il rugissait.
Il souffrait d'une terrible rage de dents depuis deux jours.
— Maharaj, il faut vous faire arracher cette dent, suggéra le singe, qui était le médecin de la jungle.
— D'accord, répondit le lion.
Mais qui oserait arracher une dent à un lion? Tous les animaux avaient très peur de lui.
— Maharaj, je vais vous décocher une ruade en plein dans la mâchoire, proposa bêtement l'âne. Cela fera tomber votre dent.
<end of sample>
Read the full book by selecting one of the buttons below the post.
Rage de dents royale Engish version below:
Read the English version using the above link.
See more books in French below