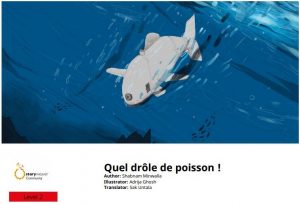 Quel drôle de poisson ! – Are You a Fish French- STEM marine robots – There is a new kind of fish swimming in the sea. But these fish are made of iron, jelly, cloth, and rubber. They are human robots made to protect, guard, monitor, and observe the fishes and the ocean without threatening or disturbing the marine animals below.
Author: Shabnam Minwalla, Illustrator: Adrija Ghosh
Text and Images from Quel drôle de poisson !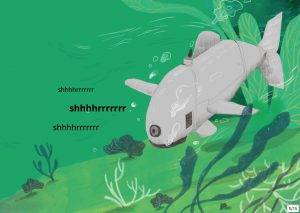 On trouve d'étranges poissons d'un nouveau
genre dans les océans.
Ces poissons ressemblent à des poissons
ordinaires et se comportent comme eux.
Mais ils sont en métal, en mousse,
en tissu et en plastique.
RoboTuna est un robot-thon. Il se déplace à la
même vitesse et sur les mêmes distances qu'un
vrai thon.
Il joue également le rôle de policier des océans.
Il chasse les contrebandiers et les pirates.
SoFi est un robot mou doté de nageoires et d'une
queue.
Il enregistre des vidéos de la vie sous-marine.
Les poissons n'ont pas peur de lui et nagent à ses
côtés.
<end of sample>
Read the full book by selecting one of the buttons below the post.
Quel drôle de poisson ! English version below:
Read the full book in English on the above link.
See more books in French below