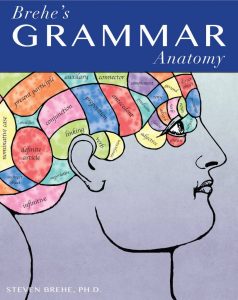 Brehe's Grammar Anatomy makes grammar accessible to general and specialist readers alike. This book provides an in-depth look at beginner grammar terms and concepts, providing clear examples with limited technical jargon. Brehe's Grammar Anatomy is the perfect addition to any resource library, especially for K12 students, parents, and teachers. This ebook is perfect essential grammar guidance for K12 ELA subjects and for intermediate and advanced ESL learners, presented in an easy to follow way.
See the contents for topics included in Brehe's Grammar Anatomy below.
Download or read online the full text of Brehe's Grammar Anatomy free here at FKB by selecting the links BELOW this post, enjoy!
If you're looking for more English resources, see our English Language category.
If you're looking for more K-12 resources, see our School Textbooks category.
This open educational resouce (OER) is published CC-BY-SA so everyone can enjoy it, see more like this in our Creative Commons resources.
Brehe's Grammar Anatomy – Contents
Introduction: Grammar? What Grammar? v
1 Together Forever: Subjects and Predicates 1
2 The Indispensables: Nouns and Verbs 6
3 Get Tense: Verb Tense, Principal Parts, and Irregular Verbs 16
4 Tall, Dark, and Wordsome: Adjectives 30
5 Inevitably, Adverbs 41

6 Among the Prepositions 52
7 You and I and the Personal Pronouns 65
8 You Did What?: Verbs and Their Complements 81
9 All Together Now: Conjunctions, Compounds, and Subordinate Clauses 91
10 Sentencing Guidelines: Building Sentences with Clauses 113
11 Relative Clauses, Which We Need 126
12 I Know That You Know What They Are: Nominal Clauses 140
13 They're So Dependent: Distinguishing Dependent Clauses147
14 What, More?: Verbs and Voice, Infinitives, and
Passive Complements 158
15 They're So Common: More on Nouns 168
16 Zowie!: Interjections and the Eight Parts of Speech 179
17 Those Verbing Verbals: Gerunds and Participles 185
18 To Boldly Verb: Infinitives 197
19 What's That?: More Pronouns 212
20 Many Things: (But no Cabbages or Kings) 221
21 Keeping Those Little Puncs in Line: A Brief Review
of Punctuation 233 Answer Key 251 Glossary 316 Index 338
See more English language books below
See more K-12 school textbooks below
————————-
Sponsored Links:
Note – if you sign up through these links, it doesn't cost you any extra, but FKB receives a small donation, which helps us buy more FREE Hardcopies   for kids who need them

All our posts are checked by Grammarly, the FREE online grammar checker (We still receive a donation even if you only sign up for the free account :-):