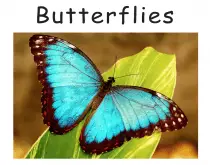 Butterflies – A non-fiction book about butterflies for early grades, with beautiful colour photographs. Another great creative commons creation from Mustard Seed Books. Word count 219, Guided Reading Level I.
By: Mustard Seed
Text and Images from Butterflies
A butterfly is an insect.
It has six legs and four wings.
A butterfly's body
has three parts.
The abdomen helps
a butterfly eat,
breathe, and make
babies. The thorax
is where the legs
and wings are
attached.
A butterfly's head has a mouth, two eyes and two antennae. Butterflies use their antennae to smell.
<end of sample>
See more Books about Insects below