The Coral Reef Activity Book is another fun and educational activity book brought to us by the US National Oceanic and Atmospheric Administration (NOAA).  This Coral Reef Activity Book contains all sorts of activities about sea life including colouring pages, fun facts, mazes, matching games, word searches, and even secret codes. This makes a perfect resource for early elementary science activities for homeschool or school use or just fun activities for a trip away. The book can spark off more research into marine life, or perhaps you could create a non-fiction book about coral reefs? Please do send us a copy for review if you do, perhaps you could be published on our site!
If you enjoy books about marine life, see more fiction, non-fiction, and activity books about marine animals in our Sea Creatures Section.
If you're looking for more resources from the publisher, NOAA, see more of their books in our NOAA Section.
Sample Page from NOAA Coral Reef Activity Book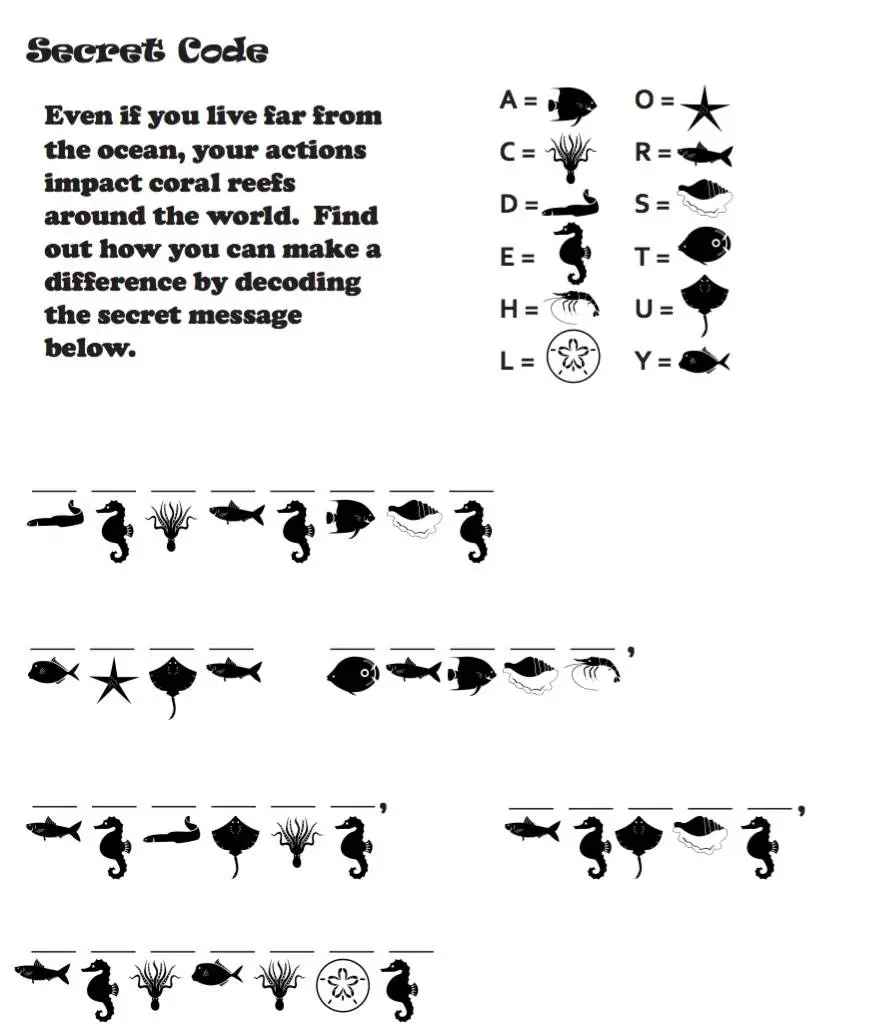 Created by: National Centers for Coastal Ocean Science:
Susan Baker | Brigitte Tran
Timothy Dorch | Mary Mahling
NOAA's SeaGrant: Vanessa Maxwell
NOAA's Office of Ocean and Coastal Resource Management: Lauren Chhay | Maria Barry Marci Wol | Paulo Maurin
Note: NOAA books are available in public domain as they are created by the employees of a US government department. This is an awesome contribution by the creators and policymakers, since it means you, as the user, are free to modify them and use in any way you need, however, it's always best to give credit to the author if you create a resource using this material.
See many more public domain books in our Public Domain section and in our Classic Books section.
See more books on sea life below