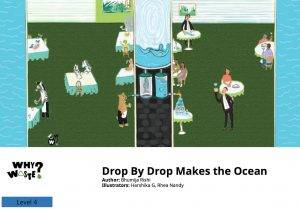 The pond in the village is so blue and deep and refreshing, that is until irrigation plans were put in place and a factory was built neraby which dumped waste in the pond. Now the pond was polluted and nearly dried up. The village children decide to work together to make a difference, with a little advice, they take some major action and get the pond back on track for recovery. A story that inspires how we can make a difference if we try, and that we should not just accept what is happening to the environment that is wrong.
Sample Text from Drop by Drop Makes an Ocean
Once upon a time, there was a little village in a faraway land. Just outside the village was a pond. It was dark blue and deep in the middle. Beautiful creepers grew along its boundaries. They had pink and white flowers and a lovely fragrance. All the little boys and girls loved the pond. They often came to swim and play in it. In summers the cool water would refresh them from all the dust and heat.
"It's so nice and beautiful," they would all say. Then one day, some men who were not from the village came to the pond. They started diverting the water from the pond to small channels to the nearby fields. These channels looked like small streams. They called them irrigation channels. The elders around them said that it would help the plants in their fields grow taller and greener. The plants after some time grew taller and stronger. But the pond was not as deep as before. It became shallow.
<End of Sample page>
Read the full book by selecting one of the buttons below the post.   
If you enjoyed this story about conservation, see more books in our conservation category below: