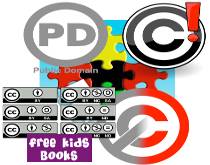 I'm writing this post to draw attention to our free editable files, which can be used as templates for children's books, available here: https://freekidsbooks.org/subject/files/editable-files/
The files in our editable section can be used as templates to create your own books! The files are all available in creative commons release and can be modified in any way.
The books in our section are created using Open Office – a free program which is available at https://www.openoffice.org. Most books use the Drawing program when there are more images than text, and the writing program when there is more text than images. Both open in the same program, but you edit them differently.
Many of our books use the OpenDyslexic font which you can download at https://www.opendyslexic.org. The font will show up in pdfs (all the books have a corresponding pdf available on the website so you can see the original layout, as this will change from computer to computer), but they will only show up in the editable document if you have it installed.
Templates can be used to expand on the story available or to create an entirely new one. To learn more about creating your own stories, see this ebook, https://freekidsbooks.org/create-a-book-by-fkb/, or this post about photobooks,  https://freekidsbooks.org/create-a-photo-story-book/ and this one about public domain stories, https://freekidsbooks.org/create-classic-stories-children/
If you decide to create a story – please send me the results so I can possibly share it with others! See more on submissions here: https://freekidsbooks.org/submissions/ and note we offer free editing 🙂 https://freekidsbooks.org/free-editing-submissions/ , and we also offer free blog posts and social media promotion for all books that are accepted.
To contact me, email danielle at redskyventures dot org
More files for creating stories
To find out more about reusing content on this site, read this post: https://freekidsbooks.org/permissions/
Not all the FKB Books (books published by FKB) are available in our editable section, since the section is seldom found, I haven't taken the time to upload more, please email me if you want any of the editable files from the Free Kids Books series of books (that is books created by me or my family) on this website.
Many of our books are from Bookdash and Storyweaver, both also have files available to use as templates for children's books, for ALL their books. On these sites you can easily create your own stories using the existing images. There is a multitude of opportunities for using the existing pictures available to create wonderful new stories if you are someone who is not prone to drawing. Besides from this there are plenty of sites available to find free public domain or creative commons images to illustrate your book.
Enjoy all the free templates for children's books here, and I really look forward to hearing from you and seeing the books!
About the Author
Danielle created Free Kids Books after being frustrated that she could not find good places to post her own books for free online. All the sites she found were either incredibly restrictive (eg the format was limited for submission and for viewing), or far too open (eg there was a mishmash of everything on there and one had to wade through the bad content to see the good). Danielle strongly believes in the value of making content Creative Commons so it can be shared by everyone.
---
All our posts are checked by Grammarly, the free online grammar checker (British English used):
This site is hosted by Bluehost:

Leave a comment (it won't be public), or contact me if you want help getting your own website cost-effectively.