Handmade in India is a journal style book from an artist traveling through the Indian countryside. The writer paints the artisans she meets and the many items they make. The text includes lots of information about the people and culture in the countryside of India.
The beautiful water colour illustrations and descriptive texts really take the reader inside the country and the lives of the people there. This is a great early non-fiction book for cultural studies.
The book is classified as Level 4 by Pratham, making it more suitable for Grades 2-4, 7 to 9 year old children, depending on reading level and English comprehension. The book contains lots of ideas and topics for school projects about Indian culture and handmade artisans.
Written and Illustrated by Olivia Fraser
About Olivia Fraser
Olivia Fraser is a renowned artist, who has studied and practiced ancient Indian artistic techniques extensively. She splits her time between India and London, and has travelled around India painting for many years. This book has arisen from her observations of the vast colourful array of people she has come across during her travels.
Sample Text From Handmade In India
If you travel around India from NORTH to SOUTH and from EAST to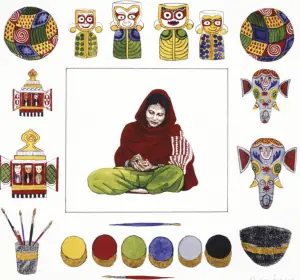 everywhere – in the fields, beside the road, in open doorways, and on verandahs.WEST,you will see people making things
They make things to eat, to wear, to sell and to help build India and its people.
* Map of India on next page not to scaleAnd it's all there for everyone to see…
Here are two Himachali women I met when I was walking in the Himalayan Mountains in Himachal Pradesh in the NORTH.
Do you know what these women are doing?
I have painted them with sheep because they are using SHEEP'S WOOL for what they are making. One woman SPINS the wool to make it into an even thread. The
other is KNITTING a multi-coloured, woolly jumper. Wool can be dyed all the colours of the rainbow. But I rather like the woman who is wearing a natural coloured outfit-it's the same colour as the brown sheep.
<End of Page 5>
About Pratham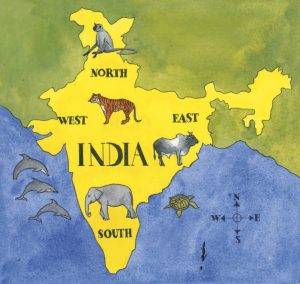 Handmade in India was made possible by Pratham Books' StoryWeaver platform. Content under Creative Commons CC-BY  licenses can be downloaded, translated and can even be used to create new stories ‐ provided you give appropriate credit, and indicate if changes were made.
Pratham Books goes digital with Storyweaver, to weave a whole new chapter in the realm of multilingual children's stories. Knitting together children, authors, illustrators and publishers. Folding in teachers, and translators. To create a rich fabric of openly licensed multilingual stories for the children of India and the world. Pratham's StoryWeaver, is a playground where children, parents, teachers and librarians can get creative. Join them, start weaving today, and help us get a book in every child's hand!
See more books about Culture below
---
Sponsored Links:
Note – if you sign up through these links, it doesn't cost you any extra, but FKB receives a small donation, which helps us with our project to buy more FREE Hardcopies   for kids who need them

All our posts are checked by Grammarly, the FREE online grammar checker (We still receive a donation even if you only sign up for the free account :-):