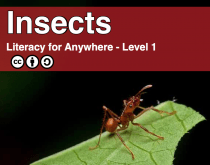 Insects – A Non-Fiction book about insects with lots of interesting facts, following with review questions and activities. A simple non-fiction book, perfect for early grades, a good start on the topic of insects for school science and nature projects . Another great creative commons book from Open Equal Free, classified by OEF as Level 1.
By: Megan Smith, Elissa Alvey, Dane Stogner
Text and Images from Insects
Insects
Level 1
Insects are all over.
Insects live in trees. Insects live in
dirt. Insects can live in your house!
<end of sample>
See more Books about Insects below