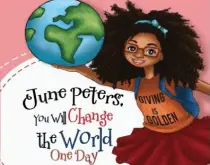 June Peters: You Will Save The World One Day – A young girl is inspired to help organise a community picnic for the homeless. An inspirational tale of how we can all make a difference if we just see a need and want to help.
By: Alika Turner
Text and Images from June Peters: You Will Save The World One Day
June's smooth chocolate skin and head full of curly, sandy brown hair made her as beautiful as the summer month she was named after. She made you as happy as you would be on a perfect summer day on the front porch drinking freshly squeezed lemonade. June was a fearless giver from the heart and very wise beyond her years at only ten years old.
June repeatedly begged her parents to let her walk to school by herself on multiple occasions.
"I am in the 5th grade," she said. June had always been a very good student. She received excellent grades in school and never got in trouble.
"I am responsible," she said. June was much more responsible than her older brothers. She din not have to be told to clean her room or to do any of her chores around the house.
"I don't have far to walk," she said. June made a strong case especially considering that her school was only one block away from their home.
Finally, her parents agreed to give her a chance for one week.
<end of sample>
See more books about Diversity and Differences below