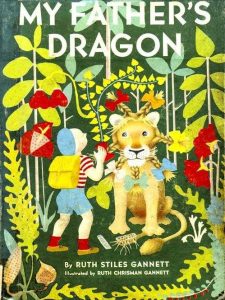 This is a classic humor for elementary children about how the narrator's father and a friendly stray cat go in search of an imprisoned young dragon. On the way deceiving the wild animals who want to stop him or eat him, or both, with cute tricks and traps. Hilarious imagery results as the animals give chase.
May I take a short note and say, we normally don't post classic books on our main site, but I wanted to again draw attention to the wonderful classic books we have available on our Classic Books page.
This book is one I had not heard of and it's absolutely adorable for elementary school children, and can make a great bedtime read, chapter at a time, or perfect for reading lessons for readers progressing to chapter books.
Sample Text from My Father's Dragon – Classic humor for elementary children
---
Chapter One
MY FATHER MEETS THE CAT
One cold rainy day when my father was a little boy, he met an old alley cat on his street. The cat was very drippy and uncomfortable so my father said, "Wouldn't you like to come home with me?"
This surprised the cat—she had never before met anyone who cared about old alley cats—but she said, "I'd be very much obliged if I could sit by a warm furnace, and perhaps have a saucer of milk."
"We have a very nice furnace to sit by," said my father, "and I'm sure my mother has an extra saucer of milk."
My father and the cat became good friends but my father's mother was very upset about the cat. She hated cats, particularly ugly old alley cats. "Elmer Elevator," she said to my father, "if you think I'm going to give that cat a saucer of milk, you're very wrong. Once you start feeding stray alley cats you might as well expect to feed every stray in town, and I am not going to do it!"
This made my father very sad, and he apologized to the cat because his mother had been so rude. He told the cat to stay anyway, and that somehow he would bring her a saucer of milk each day. My father fed the cat for three weeks, but one day his mother found the cat's saucer in the cellar and she was extremely angry. She whipped my father and threw the cat out the door, but later on my father sneaked out and found the cat. Together they went for a walk in the park and tried to think of nice things to talk about. My father said, "When I grow up I'm going to have an airplane. Wouldn't it be wonderful to fly just anywhere you might think of!"
"Would you like to fly very, very much?" asked the cat. "I certainly would. I'd do anything if I could fly."
"Well," said the cat, "If you'd really like to fly that much, I think I know of a sort of a way you might get to fly while you're still a little boy."
"You mean you know where I could get an airplane?"
"Well, not exactly an airplane, but something even better. As you can see, I'm an old cat now, but in my younger days I was quite a traveler. My traveling days are over but last spring I took just one more trip and sailed to the Island
of Tangerina, stopping at the port of Cranberry. Well, it just so happened that I missed the boat, and while waiting for the next I thought I'd look around a bit. I was particularly interested in a place called Wild Island, which we had passed on our way to Tangerina. Wild Island and Tangerina are joined together by a long string of rocks, but people never go to Wild Island because it's mostly jungle and inhabited by very wild animals. So, I decided to go across the rocks and explore it for myself. It certainly is an interesting place, but I saw something there that made me want to weep."
<End of Chapter 1 of My Father's Dragon>
For chapter books, we recommend read online in post form here: https://freekidsbooks.org/fathers-dragon-read-online-version/
Otherwise, for the pdf version select the relevent button below the post.
If you are looking for longer books and early chapter books for elementary school, check out our Older Children category.
More classic books are available on our Classic Books page. 
---
Sponsored Links:
Note – if you sign up through these links, it doesn't cost you any extra, but FKB receives a small donation, which helps us move towards our aim of
FREE Hardcopies!  
All our posts are checked by Grammarly, the FREE online grammar checker (We still receive a donation even if you only sign up for the free account :-):


This site is hosted by Bluehost:

Leave a comment (it won't be public) if you want help getting your own website cost-effectively.