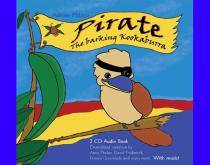 Pirate the Barking Kookaburra, a baby kookaburra, loses his memory and becomes lost in a thunderstorm. He meets up and befriends a colourful bunch of dogs and a cat who offer to help him out. His sense of fun turns their life upside down, at the same time, they teach him important lessons in survival, wisdom, and friendship, that change his life forever. Pirate learns to stand up for himself, to overcome his fears and they all learn the value of working together as a team when someone you love needs help. Warning: This book contains a small amount of colourful language that may offend some sensitive parents. The hardcopy of this book is available as 2 Audio CDs. Playing Time 2 hours 24 minutes.
By: Adrian Plitzco
Pirate the Barking Kookaburra
A thunderstorm had just passed over the little farm house. You could still hear a faint thunder, rolling up the valley of Tantaraboo. The rain had dumped lots of water onto the backyard with its tiny vegetable patch and dozens of flower pots. The vegetables and the flowers weighed down by heavy water drops looked sad, as if they were crying. But soon they would suck in the water, stand up straight again and look more beautiful than ever before.
<End of first paragraph>
About the author: Adrian Plitzco is a writer and producer of children's audio books. He has also written a novel and hosts a children's radio show on Australia's multicultural radio station SBS. Discover other titles by Adrian Plitzco such as Lancelot – The one-armed Kangaroo at http://www.plitzco.com.  All works are also available as audio books or downloads.
See more Adventure books below
See more books about Animals below
---
Sponsored Links:
Note – if you sign up through these links, it doesn't cost you any extra, but FKB receives a small donation, which helps us with our project to buy more FREE Hardcopies   for kids who need them

All our posts are checked by Grammarly, the FREE online grammar checker (We still receive a donation even if you only sign up for the free account :-):