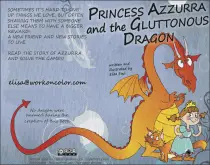 Princess Azzurra and the Gluttonous Dragon – Dragon book with puzzle – Sometimes it's hard to give up things we love, but often sharing them with someone else means to have a bigger reward! Princess Azzurra makes a new friend and learns an important lesson. Read the story of Azzurra and help her solve the puzzles along the way.
This book is perfect for young children who love fairytales and dragon book with puzzle, with endearing pictures and a valuable lesson.
Read online, or download on the links below the post, happy reading!
By: Elisa Favi
Images from Princess Azzurra and the Gluttonous Dragon 
Dragon Book with Puzzle
<end of sample>
Other books about dragons that you might like on FKB: