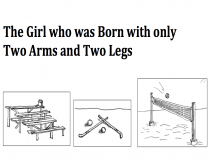 Quarta – The Girl Born With Only Two Arms and Two Legs – Imagine a world where you didn't have the same abilities as everyone else? What would you do? Quarta is another awesome free kids book from Stuart Baum at Stuart's Stories.
By: Stuart Baum
Text from Quarta – The Girl Born With Only Two Arms and Two Legs
Once upon a time, actually not that many years ago, there was a girl who was born with only two arms and two legs. Can you imagine that? Count how many you have. Eight! That's right. Four arms and four legs.
Now, there have been a few children born with only four arms and three legs. Or four legs and three arms.
And there was one child born with only three of each, for a total of six, but what would it be like having only two arms and two legs! That's hard to imagine.
If you fold two legs underneath yourself and hide two arms behind your back, you can feel what it might be like. Very odd. And how would you do all the things you need to do with only two arms and two legs. It'd be hard to even walk!
When the baby was born, the doctor told the parents the bad news. That their new baby daughter only had two arms and two legs. Though they were sad, they decided to love their new daughter anyway. And they named her Quarta, meaning 'four.'
Growing up, Quarta had very few friends. This was possibly since her parents were afraid she'd get hurt or struggle too much to keep up, because she had only half as many arms and legs as the other children.
When she was five, Quarta went to school like the other children. She did well in classes, better than most of the other children, but she struggled to fit in socially, that is, she had almost no friends. And, as far as sports went, this was the biggest problem.
Other children could easily catch the two balls and two sticks when they played "Balls and Sticks," but since Quarta had only two arms, she could only, at best, catch one stick and one ball. For this reason, no one wanted her on their team.
Lunch was even more difficult, since the children had to catch their own food and Quarta had to learn how to do this with only two arms. Can you imagine catching food with only two arms? That'd be really hard!
She did not starve, of course, but there were some lunches where her teachers had to give her food, like a baby, and this was embarrassing.
The other children teased her, as you might expect, which made her sad, but what could she do?
It became worse as she got older. When she was thirteen and the students were going on dates, she was often left home alone. Every now and then, her friends would all go out together and they would invite her. But, she knew, she was too different to be considered a girlfriend by any of the boys. They would be nice to her, but it was more like how you would treat a pet than a person. This made Quarta very sad.
<end of sample>
See more books about Diversity and Differences below