Spelling and Literacy Workbooks – Learning to Read, Write and Spell Workbooks are essential for helping develop confident happy readers and writers.
When going through the learning to read age with one of my children, who was a struggling reader, I developed a ton of materials to help her find easy ways to learn the sounds. Eventually, the school found a program called toe by toe, which did exactly what I had been trying to do, in a very organised way. However, the resources she and I developed together were really quite amazing, and special. I do think they helped her a lot, and I wanted to put up a post to share these with everyone. I'm just revisiting all of these now with her younger, naughtier brother, and realised I don't have a comprehensive list of the resources, so started this post.
What appeared to help a great deal is the constant repetition of similar sounds. Which is why I put together a few workbooks and spelling lists which deal with similar sounds, multiple words with the same sound, then same sounding words spelled different ways, and common word lists. These all helped us a lot. Again lots of repetition and some work with spelling and word games helps considerably.
Spelling and Writing Workbooks
I created three workbooks around the common sounds and first few hundred common words. These workbooks feature progressive repetition of common vowel and consonant pairings, practice writing exercises, progress check-lists, and word cards. The three books together made a very powerful learning to read and spell set for us, which worked well. I really found these books alone enough to provided the basis of common sounds for an effective spelling and reading foundation. Each book is available in editable and pdf format.
Most of the books are in a combination of open dyslexic font and comic sans for writing practice.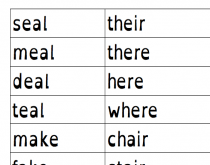 This book has a whole bunch of similar words which helps students recognize similar English spelling derivatives. I loved these lists for the repetition and reinforcement they provided.
This was the most fun reading book, since it gave my daughter a lot of confidence in her reading. Simple stories that don't need constant sounding our really help new readers develop their word recognition skills without frustration.
To build on what is available in these workbooks, our Early Readers category contains interesting books which suit emerging readers. The emerging readers are designed to be interesting enough for new readers to enjoy their task, while having a short length to avoid fatigue, a limited vocabulary with lots of sight words and only a few sound-out type words, and lots of repetition for reinforced learning and confidence.
Publishers of books in our emerging reader category include:
Mustard Seed  These are leveled readers (categorised for common reading standards), and have editable and bilingual versions on the publisher's site.
Pratham Level 1 Books
BookDash
FKB Sight Word Series (Our Own series)
All the above publishers provide their books under a creative commons license, which means you are free to remix the work and distribute under the same license. All have also made it easy to copy the books by providing some or all of the source files.
Writing and Alphabet Worksheets
The following worksheets, again in print and editable version are designed simply for repetition of letter formation.
For younger Children Learning Alphabets, there are some alphabet books, in our alphabet category, and here are some links to editable alphabet cards and an alphabet book.
Educational Resources
Finally here's some more resources for homeschoolers and teachers, or parents who are actively involved in education related to literacy which have been scattered around our site.
Quite a few of our books are available in editable versions that can help teachers or parents who wish to customise the books to suit their own readers.
This book provides guidance for parents going through the learn to read stage.
This is not free, but developed by a teacher, and highly recommended for interactive learning.
Hope you enjoy these educational resources and literacy workbooks, my next post I'm going to try to collate all the STEM and maths workbooks!