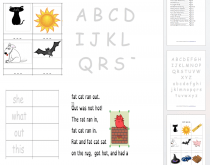 This is a Spelling and Writing Workbook covering some of the early phonics items from the UK G1 syllabus, in editable (OpenOffice, extension .odt) version (the PDF version can be found on FKB files page, here: ). The file includes CVC word lists for short vowel sounds, stories to read in three and four letter words for emerging readers, spelling puzzles, and the first 100 high-frequency words.
We have a version 2 and 3 of this book, available in both editable and pdf versions on the site.
All books are designed around learning common sounds and vowel/consonant pairings that can help decipher the English spelling code. The books feature repetition exercises and progress charts to develop confident readers.
Spelling and Writing Workbook
License: This file is CC-NC-BY, and may be used unrestricted for home use. Any use for educational or non-profit purposes requires retaining the attribution and footers. No commercial use is permitted without permission.
Author: Danielle Bruckert
See more books suitable for Grade 1 in our Grade 1 Workbooks post.
See more books suitable for school use in our School textbooks Category. 
See more books from the Author below