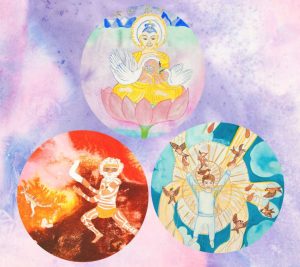 In Spirit Storybooks, Aaron Zerah retells three traditional folk tales, Bamapama Chases the Kangaroo, Buddha Saves the Swan, and Jesus and the Birds of Clay. These stories are interesting for their aspects of the individual cultures and religions they stem from. The book is complete with fascinatingly beautiful, colourful paintings by world-renowned spiritual artist Della Burford.Traditional folk tales are stories that have been handed down from ancient cultures, and these tales are from Aboriginal, Christian, and Indian Buddhist history and cultures. Aaron's book, How the Children Became Stars, also on our site, remains very popular, providing 52 stories which contain great life lessons, and includes exercises after each story.
Sample Text from Spirit Storybooks – Traditional folk tales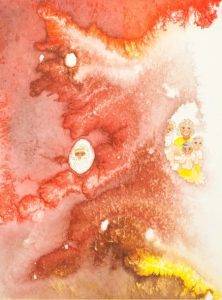 Long long ago, in the time called Dreamtime, there was a man named Bamapama who everyone thought was crazy. Bamapama andall the poeple lived under the earth where the sun stayed in one place all day long. It never went down and it was always very hot.
Bamapama decided to come up to the surface of the earth. "I'll go hunting," he said. When he got up to the top, he saw a bing kangaroo. Bamapama started chasing it, but he couldn;t get close enough to throw his spear.
The kangaroo hopped away to the west and Bamapama followed. The day was long ang the sun was going down farther and farther in the sky. The kangaroo stopped hopping and bamapama caught up to it. He was about to throw the spear when the sun disappeared. It was now dark.
<End of excerpt>
More about Aaron Zerah can be seen on his own site A to Z Spirit, where there are more great free spiritual books available.
If you are looking for more children's spiritual books, see our Spiritual Category, if you are looking for more traditional folktales for children, see our Fables and Folk Tales Category.
---
All our posts are checked by Grammarly, the free online grammar checker (British English used):
This site is hosted by Bluehost:

Leave a comment (it won't be public) if you want help getting your own website cost-effectively.