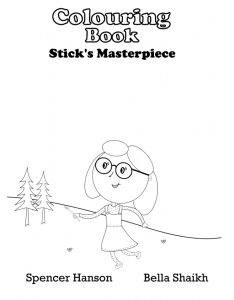 Stick's Masterpiece is perfect for inspiring children that feel they "can't do" something. Cute Little Stick learns that while she may not know how to paint a masterpiece, she can do small and simple things. These small and simple things, composed over a lifetime, are what become her masterpiece. The result is more beautiful than she could have imagined.
This is a colouring version of the book, the full version can be found here: https://freekidsbooks.org/sticks-masterpiece/
Creative Commons Attribution Share-Alike – CC-BY-SA. Author Spencer Ranson. Illustrator Bella Shaikh.
About Patreon: Bella Shaikh is creating Free Picture Books on Patreon. Patreon is a crowdfunding platform where you can support artists from as little as $1 per creation. Join as patron to support Bella's next project. You will only be charged once the book is completed. You can cancel or amend your contribution any time. https://www.patreon.com/bellashaikh
Download or read online Stick's Masterpiece by selecting one of the buttons below the post.
See more colouring books below: