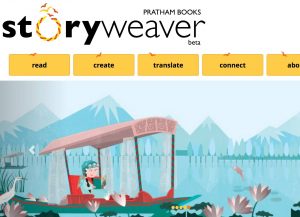 Many of our recent books have come from a site called StoryWeaver, here is a little bit of background about Storyweaver and their mission:
'There's no such thing as a child who doesn't like to read. There are only children who haven't found the right book' goes the popular adage. StoryWeaver is a gateway to an endless stream of stories committed to helping children find the right story in a language they're familiar with.
StoryWeaver is an open source digital repository of multilingual stories from Pratham Books, a not-for-profit children's publishing house with a mission to see 'a book in every child's hands.'
On StoryWeaver all the content is openly licensed under one of the most liberal Creative Commons licenses CC-BY4.0. This allows  our community to use, share and repurpose all content on the site as they desire. On StoryWeaver, a user can read, translate, create, download, share and print stories absolutely free of cost. We believe that by setting stories free like this, they'll take wings and find ways of reaching children not just across India, but across the world.
StoryWeaver was born on International Literacy Day 2015 with 800 stories in 24 languages. In 12 short months the platform has leapt to over 2000 stories in 52 languages, both Indian and International. Almost all new language additions have to come us at the request of our community of users who are spread across 187 countries across the world.
"This is like Alibaba's Treasure Cave!"
A Platform for Readers and Creators of Childrens' Stories
So how are thousands of people across the world using StoryWeaver?
Aspiring writers and illustrators are using the platform as a space to publish and share their work. And it's not just the grown ups who are using the site. Young children are on StoryWeaver (under parental supervision of course) to give their imagination a playground to romp about in. Young authors can also tag their stories as 'Created by a child' with their name on the front cover.
Thanks to StoryWeaver's 'open' philosophy we've seen wonderful cases of educators using the platform to create, access and share  quality reading material and teaching resources.
Martina Monteiro, a teacher in Brazil uses the site to translate stories to Portuguese. " I work at a school and our project includes motivating learners to read more. Books are expensive here and not everybody has the means to buy them, so StoryWeaver is an amazing resource for teachers like myself."
The Asia Foundation's Books for Asia program is selecting and adapting content from StoryWeaver for local language e-book initiatives.  For example, in Cambodia and Mongolia, they are localizing and making Storyweaver books available to school children via a digital library program called Let's Read! and Cambodia's Ministry of Education's online education portal.
An Online-Offline Model for Kids Stories 
StoryWeaver understands that limitations of infrastructure could be a roadblock to more children accessing the site. So we have ensured that while creation of content happens online, dissemination is possible offline.
Stories can be downloaded from StoryWeaver to read and in one of three formats one of which is print ready. This allows educators and librarians to download stories, print and then share them with students.
As a Block Resource Person with Pratham in the Kamrup district of Assam, Rantu Moni Deka works closely with schools who are a part of Pratham's flagship program: Read India. He's been spending his spare time translating stories to Assamese on the site. Again, due to infrastructural issues, he downloads ePubs of his translations and then conducts offline storytelling sessions with students in the schools he works with.
It was these cases of uptake of localization and translations of stories in languages of the world that inspired us to launch the 'Freedom to Read' campaign as part of our first year anniversary celebrations.Launched on September 8th, 2016, the 'Freedom to Read' campaign pledges to add stories in 15 new languages to StoryWeaver. The campaign will culminate on International Mother Language Day, February 21st, 2017, with the stories having reached children in a language of their choice through collaborations w
th other organisations.
To know more about the campaign and take part click here. Can't find a language you want to translate to? Write to us at storyweaver@prathambooks.org and we'll add it! We look forward to seeing you on the site and helping more children find the right story.
Posted in Creating Kids Books, Free Kids Books (other sites) | Tagged children's stories free, Kids Stories free, prat ham children's books, pratham, storyweaver
Reading Changes Lives. Free Books = Literacy for Everyone!