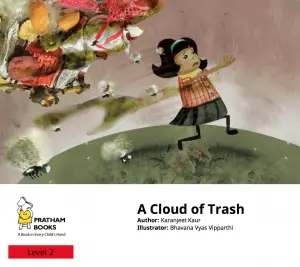 A cloud of trash is hanging over Cheekoo's head, making her the unhappiest girl in the world. She was sure it was because she didn't listen to Amma, and threw her trash on the ground. Read this wonderful story to find out how Cheekoo gets rid of this horrible trash cloud.
A Cloud of Trash is an awesome picture book to introduce children to caring about the environment, and to help them care about their surroundings, bedrooms, classrooms, toys etc. It can probably help some adults too in some emerging cultures!!! The book has some great learning points and starting points for lessons included at the end.
Author: Karanjeet Kaur
Illustrator: Bhavana Vyas Vipparthi
Sample Text and Images from A Cloud of Trash: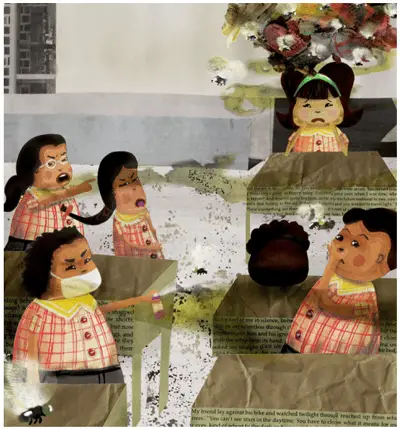 Cheekoo was the unhappiest girl among her friends.
She was certainly the unhappiest girl in her entire class.
She was perhaps the unhappiest girl in the world.
Friends? Cheekoo had no friends anymore.
No one wanted to play with Cheekoo.
Because she had a cloud hanging over her head.
A cloud of TRASH.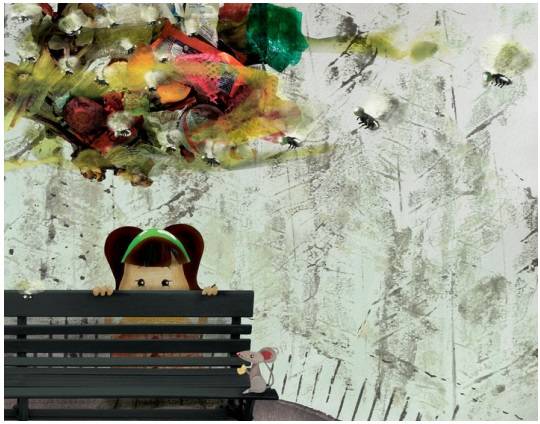 Orange peels and biscuit packets,
Broken toys and pencil shavings,
Twisted plastic bottles and colourful plastic bags,
All surrounded by a swarm of buzzing flies.
No one wanted to play with a girl who had a cloud of trash hanging over her.
What if a rotten banana peel fell on your head? YUCK!
Cheekoo couldn't even play hideand-seek anymore.
The cloud would always give her away.
<End of Sample From A Cloud of Trash>
Here's how NOT
to make a cloud of trash
– We can start by not littering our surroundings.
– Always, always throw waste into a dustbin – look around for the nearest one.
– After you eat a banana, don't throw it on the road. Put the peel in a small bag until you find a dustbin.
– There are many things that you may think are useless, like the paper bag into which you put the peel. But not everything is waste. So don't throw the bag with the peel! Take it home and reuse it.
– Cover dustbins so that flies can't get inside.
This book is another great creative commons book from Pratham's Storyweaver platform. See more of their books here: https://freekidsbooks.org/storyweaver-pratham/
About Storyweaver
Pratham's platform Storyweaver allows people to read, create, translate, and make variations of books. They have thousands of books, and images, which people can make their own books from and share them with others. All the books provided by Pratham are licensed as creative commons, that is they are free to be shared. The only restriction is that all resulting work must be shared in the same way, and due credit must be provided to the original creators (CC-BY-SA).
See more books about Values below
See more books by Storyweaver
below
Read more about Storyweaver here: https://freekidsbooks.org/storyweaver-setting-stories-free-for-children-everywhere/
---
Sponsored Links:
Note – if you sign up through these links, it doesn't cost you any extra, but FKB receives a small donation, which helps us with our project to buy more FREE Hardcopies   for kids who need them

All our posts are checked by Grammarly, the FREE online grammar checker (We still receive a donation even if you only sign up for the free account :-):