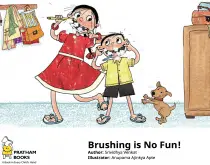 Brushing Is No Fun – No one likes brushing their teeth much, but here is a fun way to make tasks that are not fun more enjoyable. Another great Creative Commons book from Storyweaver and Pratham.
By: Srividhya Venkat, Anupama Ajinkya Apte
Sample Page from Brushing Is No Fun: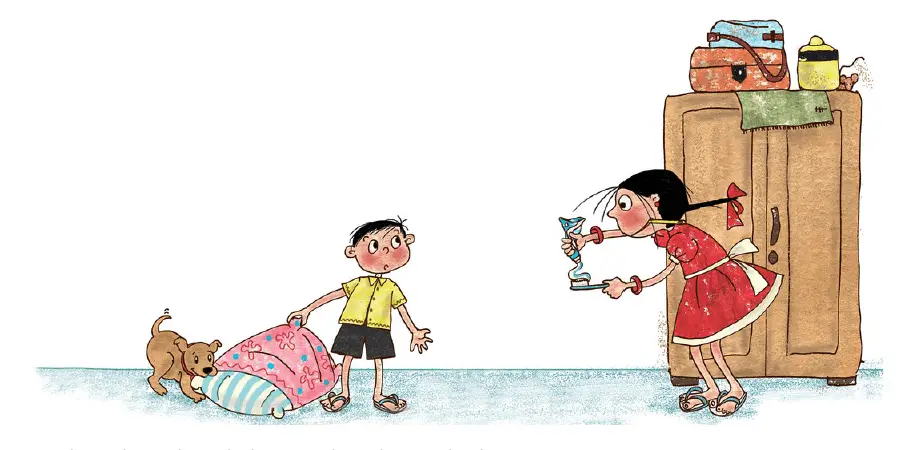 When Rohan woke up, he began to play with Jimmy, his dog.
"There's something you should do first!" said Riya, his big sister. "BRUSH YOUR TEETH!"
WOOF!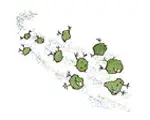 "I don't want to brush my teeth! Jimmy doesn't brush his teeth!"

"Animals take care of their teeth too, but in other ways! We must brush our teeth to keep germs away!"
"Germs?"
"Germs are very tiny creatures that you cannot see. If you don't brush properly, they stay in your mouth and hurt you!"
"Ouch!"
"YES! That's why we must take good care of our teeth by brushing twice a day – morning and night!"

"But brushing is no fun!"
"I'll tell you a secret, Rohan! Psst…"
Rohan smiled.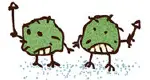 <End of Sample Page from Brushing Is No Fun>
About Pratham Books
Pratham Books goes digital, FKB  is helping with their aim to get a book in every child's hand!
Storyweaver, their digital platform is provided to weave a whole new chapter in the realm of multilingual children's stories. Knitting together children, authors, illustrators and publishers. Folding in teachers, and translators. Creating a rich fabric of openly licensed multilingual stories for the children of India and the world. Their unique online platform, StoryWeaver, is a playground where children, parents, teachers and librarians can get creative, using the resources to make your own unique books online.
About Creative Commons
Content under Creative Commons licenses can be downloaded, translated and can even be used to create new stories ‐ provided you give appropriate credit, and indicate if changes were made. To know more about this, and the full terms of use and attribution, please visit the following.
About Storyweaver
Pratham's platform Storyweaver allows people to read, create, translate, and make variations of books. They have thousands of books, and images, which people can make their own books from and share them with others. All the books provided by Pratham are licensed as creative commons, that is they are free to be shared. The only restriction is that all resulting work must be shared in the same way, and due credit must be provided to the original creators (CC-BY-SA).
More Books From Storyweaver:
Read more about Storyweaver here: https://freekidsbooks.org/storyweaver-setting-stories-free-for-children-everywhere/