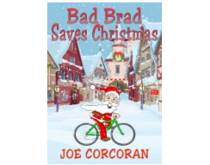 Brad doesn't believe in Father Christmas, and he doesn't want anyone else to believe that nonsense either. He's happiest when he's making everyone else miserable. His parents aren't bothered about Christmas either, so on Christmas Eve there's no decorations in the house, no tree downstairs, no stocking hung up. But, whether Brad believes it or not, soon he'll have to decide whether to stay being Bad Brad, or whether he'll get on his bike and save Christmas. Is it worth the effort for one person? For sure! And is it better to fix badness with kindness? For Sure! There's a very important message in this fun Christmas story from Joe Corcoran.
Read Chapter Book Online here:
https://freekidsbooks.org/bad-brad-saves-c…tmas-read-online/
Exert From the Book:
Once upon a time, in a far, far distant country, there was a little boy called Brad, although no one called him just Brad. Everyone called him Bad Brad. He never said please, and he never said thank you. He never shared, and he never wanted to wait his turn.
"If you're not good," said his parents, "then Father Christmas will put you on the naughty list, and you won't get any presents on Christmas Day."
"I don't care," answered Bad Brad, "I don't believe in Father Christmas."
Well this was bad enough, but it wasn't the worst that Bad Brad could do. He was determined that no one else should believe in Father Christmas either.
"I hope Santa will bring me a puppet theatre on Christmas Eve," said Sally Perkins, one day in the playground.
"You'll be lucky," sneered Bad Brad, "Father Christmas doesn't exist."
"But I wrote a letter to him and everything," wailed Sally, "I put it in the fireplace, and in the morning, it was gone."
"Your parents probably lit the fire after you'd gone to bed," said Bad Brad, "and the letter got burnt up all into ashes."
About Joe Corcoran:
Joe Corcoran was born in Sheffield, grew up in Manchester, was educated in Cambridge and now works in London. He is a devoted husband to Mickey and proud father of Toby, who is the patient recipient of many stories in the making. They live in a nice little house in Twickenham, home of English rugby and match day traffic congestion. Together, Joe and Toby wage an eternal battle against urban foxes – especially their droppings.
The income from his writing being negative, Joe pays the rent by working for a big multi-national. He is an expert in supply chain, which is the art of getting the things that people want to sell to the place where people want to buy them, and he travels the world dispensing advice on the subject. When he is not travelling, Joe works in an office in central London. He commutes every day by train, which provides his main opportunity for writing stories.
You can find more of Joes books on Free Kids Books here:
https://freekidsbooks.org/category/author/joe-corcoran/
More about Joe and keep up to date with his other books and stories at
https://www.smashwords.com/profile/view/corcorelli .
Bad Brad on Kindle here:
Check Out More Chapter Books:
See more books from Joe Corcoran:
---
Sponsored Links:
Note – if you sign up through these links, it doesn't cost you any extra, but FKB receives a small donation, which helps us move towards our aim of
FREE Hardcopies!  
All our posts are checked by Grammarly, the FREE online grammar checker (We still receive a donation even if you only sign up for the free account :-):