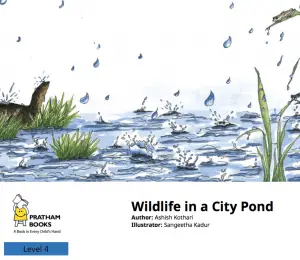 Wildlife in a City Pond is a a level 4 picture from Pratham's storyweaver platform.
Wetlands in any city are seen mostly as wasteland, waiting to be built over. It takes a tireless environmentalist to show us what city ponds really are – magically rich ecosystems worth preserving. Based on a real-life experience, here is a story that introduces us to the delightful fauna and flora in the urban landscape.
The book is beautifully illustrated and tells a story about how important wildlife is, and how we can make a difference by standing up for something we believe in.
Author: Ashish Kothari
Illustrator: Sangeetha Kadur
Sample Text from Wildlife in a City Pond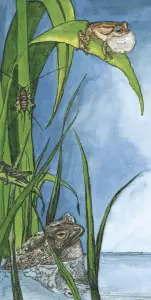 It was dark outside and I could not see much from my window. I had just moved that evening into a new house in the city of Pune, in India.
There was a deafening cacophony emerging from the dark, as if hundreds of badly tuned radios were crackling away!
It was only in the morning that the mystery began to be solved. There, below my balcony, was a small pond in an abandoned quarry. I realized it must be inhabited by many of the animals that woke up only at night!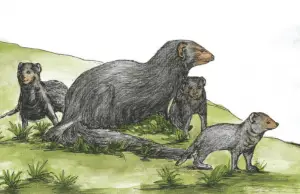 Over the next year, I watched the pond undergo incredible transformations through the seasons. In summer, the area looked like a dry, lifeless barren depression. But come monsoon and life burst out like an orchestra, waiting for the conductor to give the signal!
The first raindrops on the thirsty land gave off a lovely earthy smell. But they also did what no magician could do, turning the brown earth into an oasis of green and blue.
<End of Page 2>

Project Ideas about Wildlife
The book is a great starting point to inspire trips to local wildlife sanctuaries or nature parks. It is also a good topic for researching groups who support saving conservation areas, or researching the type of creatures who live in such areas. Children can make lap books, project boards, or a book of their own about wildlife and conservation.
About Storyweaver
Pratham's platform Storyweaver allows people to read, create, translate, and make variations of books. They have thousands of books, and images, which people can make their own books from and share them with others. All the books provided by Pratham are licensed as creative commons, that is they are free to be shared. The only restriction is that all resulting work must be shared in the same way, and due credit must be provided to the original creators (CC-BY-SA).
See more books about Conservation below
More Books From Storyweaver
---
Sponsored Links:
Note – if you sign up through these links, it doesn't cost you any extra, but FKB receives a small donation, which helps us with our project to buy more FREE Hardcopies   for kids who need them

All our posts are checked by Grammarly, the FREE online grammar checker (We still receive a donation even if you only sign up for the free account :-):