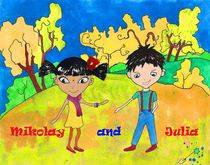 One day Mikolay & Julia discover hidden wardrobe in Mikolay's mummy's secret office. The wardrobe turns out to be full of gentle creatures with singing voices. The mysterious creatures need Mikolay & Julia's magic skills to help them out.
Exert: Mikolay and Julia live in the same neighbourhood and go to the same school every Monday, Wednesday and Friday.Every other weekend they attend Magical Weekend School for children of magical creatures. Julia really likes school and she is one of the top students. But Mikolay wouldn't mind if there weren't as many Mondays, Wednesdays and Fridays as they are. He doesn't mind the weekend school because he is allowed to do lots of magic, which he really likes and is very good at. <End of paragraph 1>
About the Series: Mikolay is a little wizard. His best friend, Julia, is a witch. They attend public school together during the week. On weekends they are students at a school specialising in magic. When they are not in school, they go adventuring and exploring, finding challenging realms, and often trouble they did not expect. But their creativity, courage and friendship provide them with plenty of strength to accomplish their tasks.
About the Author: Magda is a producer, scriptwriter & film director, with her own production company Mayan Films, and has been in the film industry since she graduated with a Foundation Degree in Arts and started her own production company. Since filmmaking is a long process regardless whether one makes a short or a feature film she write books & short stories in between productions. Her children books are used by several charities in third world countries to teach kids how to read. Her first feature film "Anna and Modern Day Slavery" is going to be released in the fall of 2016. In her personal life she's a keen student of Eurythmy, passionate book reader, an enthusiast of vegan cooking, and obsessive film fan.