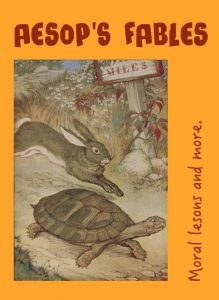 This is a version of most Aesop's fables for children available with questions. The awesome thing about this version of Aesop's Fables is that it has comprehension questions for every fable at the end, and the index is hyperlinked thanks to awesome tools available in Adobe software. Unfortunately, it does not have images and text is abbreviated from the original version, I've included a link to Gutenberg html version with all the original texts and images below.
See more from Aesop on FKB here: https://freekidsbooks.org/author/aesop/
Extract from Aesop's Fables – The Tortoise and the Hare
The Hare was once boasting of his speed before the other animals. "I have never yet been beaten," said he, "when I put forth my full speed. I challenge anyone here to race with me." The Tortoise said quietly, "I accept your challenge." "That is a good joke," said the Hare, "I could dance round you all the way." "Silence your boasting till you've beaten me," answered the Tortoise. "Shall we race?" So a course was fixed and a start was made. The Hare darted almost out of sight at once, but soon stopped and, to show his contempt for the Tortoise, lay down to have a nap. The Tortoise plodded on and plodded on, and when the Hare awoke from his nap, he saw the Tortoise just near the winning-post and could not run up in time to save the race. Then said the Tortoise: "Plodding wins the race."
Moral Plodding wins the race.
Reading Comprehension Questions from A Hare and a Tortoise
1 A hare can run much faster than a tortoise. Why did the tortoise win?
2 Can you think of other activities in which a slow and steady pace will win over a fast and impatient pace?
3 How would you say the moral in your own words?
Each story in this book has 3 to 4 questions related to it similar to these ones.
Here are some more versions of Aesop's Fables available free online.
Aesop's Illustrated Fables for Children – https://freekidsbooks.org/aesops-fables-illustrated-children/
Read online version of original Aesop's fables with images:  Aesop's Fables For Children Read Online with Pictures
EPub version of Aesop's fables with images from Gutenberg (as above): Aesop's Fables For Children ePub with Pictures
Another pdf version of Aesop's fables, no images: Aesop's Fables pdf – text only
See more of our stories with a moral below
See more of our classic books selection below
---
Sponsored Links:
Note – if you sign up through these links, it doesn't cost you any extra, but FKB receives a small donation, which helps us with our project to buy more FREE Hardcopies   for kids who need them

All our posts are checked by Grammarly, the FREE online grammar checker (We still receive a donation even if you only sign up for the free account :-):