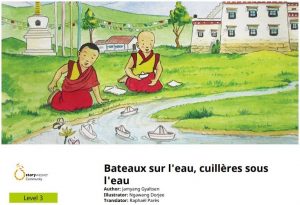 Bateaux sur l'eau, cuillères sous l'eau – Sailing Ships and Sinking Spoons French – Tenzin and Tashi are trying to learn why paper boats float and why spoon sinks, they asked Gen Lobsang for answer but he too does not know so they asked Miss Sonam for answer for she is a science Teacher. This is a level 3 book from Prathams Storyweaver that can be used as research or school material with lessons about gravity, buoyancy, density and displacement.
Author: Jamyang Gyaltsen, Illustrator: Ngawang Dorjee
Text and Images from Bateaux sur l'eau, cuillères sous l'eau
Tenzi et Tashi étaient deux jeunes moines tibétains. Ils vivaient dans un petit monastère dressé sur une splendide colline verte. Les jours de pluie, l'endroit était magnifique.
Un matin, Tashi regarda par la fenêtre. Il pleuvait à torrent. De petits ruisseaux se formaient là où s'écoulait l'eau, le long de la route boueuse. Tashi était ravi de se dire qu'il allait ainsi pouvoir passer l'après-midi à faire naviguer des bateaux en papier.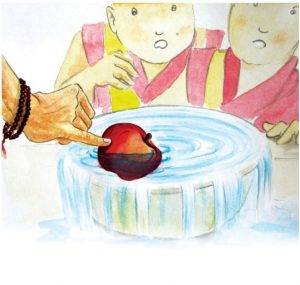 Tashi et Tenzi se mirent alors à façonner de nombreux petits bateaux. Dès que la pluie s'arrêta, ils coururent à l'extérieur et mirent à flot les navires qu'ils avaient fabriqués. Des grands. Des plus petits. Les bateaux dérivaient doucement le long du ruisseau. Les deux petits moines étaient heureux.
Sur le chemin du retour, ils apperçurent Gen Lobsang. Gen vivait également dans le monastère et racontait souvent aux enfants des histoires parmi les plus merveilleuses.
"Genla ! cria Tenzin. Peux-tu nous expliquer pourquoi les bateaux flottent ?"
Gen Lobsang réfléchit un instant puis dit : "Hélas, je ne sais pas pourquoi flottent les bateaux, ni les navires d'ailleurs. Mais je suis bien curieux de l'apprendre."
Genla : Manière polie de s'adresser à un professeur en tibétain
<end of sample>
Read the full book by selecting one of the buttons below the post.
Bateaux sur l'eau, cuillères sous l'eau English version below:
Read the English version using the above link.
See more books in French below