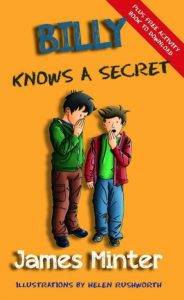 If you keep a secret, there's a reason. It is usually to protect yourself or someone else. This story explores the issues of secret-keeping and the consequences that can arise.
Quote about the book: "This cautionary tale shows how a simple mistake ends up being blown into a police matter where the accused is innocent, proving that honesty and admitting to a mistake are always the best of policies, even though 'fessing-up seems terribly scary at the time. While a bit more serious in tone than some of the preceding books in this series, I especially enjoyed seeing how the characters I've grown to know so well do indeed do the right thing, even if it takes them some time to get up the courage to do so. This is a well-written, engaging, and at times suspenseful tale. Billy Knows A Secret: Billy Growing Up, Volume 8 is most highly recommended."
This book also comes with an activity book available here: https://dl.bookfunnel.com/huyts6lfpu. 
This is book 8, the final book in the Billy Growing Up series. A series of books exploring important emotional concepts for children growing up. See more books in the series below: