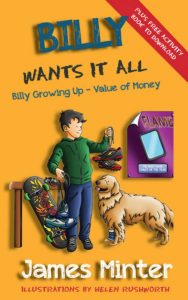 Billy Wants it All – Billy Growing Up Series – It's important that children learn both the purpose and value of money and how it fits into the way they will have to live when they are adults.  Parents take care of a child's financial needs until they leave education. Food always appears on the table, and clothes in our closet, or gifts on birthdays and at Christmas.  However, the most important lesson a child has to learn is that these things don't appear out of thin air.  Someone has to exchange their services – work at a job – in order to earn the money to purchase the goods.
In the story Billy wants a new skateboard.  He doesn't understand why he just can't have it bought for him.  He doesn't have to pay anything towards any other costs in the household so why does he have to participate in a toy?  
Reviews of Billy Wants It All:
"Billy Wants It All is an absorbing story that's got an exciting finish as Billy conquers his fears and actually competes with kids much older and more experienced than he is. Minter's plot is compelling and designed to reach kids without having them feel that they're being lectured to, and it reads beautifully." Jack Magnus for Readers' Favorite.
See the activity book that goes with this here: https://www.billygrowingup.com/activity-book/4592245317
See all the book series of Billy Growing Up here: https://freekidsbooks.org/author/james-minter/ or see below: