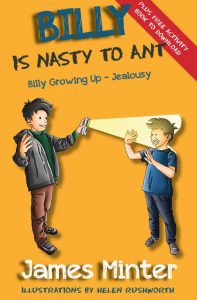 Billy is Nasty to Ant is the third book in the Billy Growing Up Series, aimed At elementary children to help them understand emotions like Jealousy and teach them important lessons in behavior.
This book is suited for children aged 6 to 9 years old. The story will help children understand what is jealousy, how it hurts the person who feels it and how jealousy stand in their way of feeling happy and content.
About Billy is Nasty to Ant
Billy Field and Ant Turner are involved in a school production. Billy believes he deserves the most attention and the prize for being the better student. When his best friend Ant receives both, he feels jealous. For Billy, it isn't fair, and he's afraid he will lose his popularity as Ant becomes the centre of attention. Billy blames Ant for how he's feeling and wants to get his own back. He tries to turn people against his friend and even tells lies. Ant has done nothing wrong and doesn't understand why Billy is behaving the way he is.
What can Ant do to stop Billy from being so nasty? What will it take to restore their friendship? Does Ant want Billy as a friend in future?
This book looks at jealousy. Jealousy is based on wanting something for ourselves that someone else has. As children, we learn by making comparisons with others. Jealousy usually involves another person. Seeing them with want and do not have, can lead us to harm and bring unhappiness to the other person at whatever cost. These emotions can also generate feelings of guilt and shame, as we know deep down that we are actually harming the other person. However, jealousy only harms the person who is feeling it.
Review of Billy is Nasty to Ant:
"It's hard to see past the disappointment or envy to realize that everyone is good at something and to be able to feel truly happy for your friend. Minter's story illustrates this beautifully as Billy learns to get over his resentment and jealousy over Ant's winning the award." Jack Magnus for Readers' Favorite.
Billy is Nasty to Ant has a free activity book which goes with it, available at the author's site here:
Free Billy is Nasty to Ant Activity Book
See all the books from the Billy Growing Up series on the authors site, https://www.billygrowingup.com/, or see more from James Minter on his site, https://www.jamesminter.com Free Kids Books in his author site here, James Minter's Books on FKB. 
See more of the Billy Growing Up series here below
See more of our books about emotions below