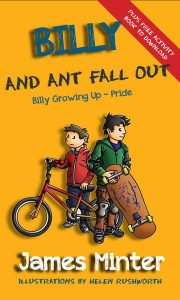 Billy and Ant Fall Out is the second book in the Billy Growing Up series, a series for elementary children which deal with important lessons in behaviour. 
False pride makes a child feel so important that they would rather do something wrong than admit they have made a mistake. Could pride be playing a part in your child's negative behaviour?
In this story, Billy Field says something nasty to his best friend Ant Turner, and they row. Ant goes off and makes a new friend, leaving Billy feeling angry and abandoned. Billy's pride will not let him apologise to Ant until things get out of hand.
Is Billy the sort of person to have as a friend? Will it be possible for Billy and Ant to be mates again? Can they overcome their differences?
This book teaches children about what characteristics are important in themselves and in friends and about those that are undesirable like pride, or false pride, and how to be a friend, including forgiving each other when mistakes are made.
Review of Billy and Ant Fall Out:
"A truly great book for children that teaches them very valuable life lessons. My younger cousin and I love to read together and I thought this would be the perfect book for her. She's an only child, which I think can be a bit harder when it comes to pride since she is used to being praised for everything. This book does a great job at differentiating to children the difference between being proud of yourself and being a boastful "know it all". We both really enjoyed this book and were able to talk about the bigger picture of the story once we finished. I'll definitely be looking into more books in this series that teach other life lessons. Would recommend! Courtney, Amazon Review
Billy and Ant Fall Out has a free activity book which goes with it, available at the author's site here:
Free Billy and Ant Fall Out Activity Book
Excerpt from Billy and Ant Fall Out – Page 1
"Have you seen this?" Billy pointed at the skateboard magazine while his dog Jacko licked his paw. "It's awesome. It's got go-faster wheels with extra-special bearings. It'll go really fast."
Billy rubbed Jacko's head, "Shall I get you one? I've seen loads of dogs on YouTube riding skateboards. I'm sure you can do it; you're a clever boy." He hugged Jacko around the neck. "Yes, you are." Billy buried his face in the dog's soft golden fur.
Then Billy stood. "Come on, boy. Up." He patted himself on the chest. "Come on, right up."
Jacko stood on his hind legs and rested his front paws on Billy's shoulders.
"See, I said you were clever."
<End of page 1 of Billy and Ant Fall Out – Billy Growing Up Series Book 2>
Read the full ebook free by selecting the buttons below the post (read online or download pdf) or you can also buy the hard copy at Amazon/ or Book Funnel:
Billy Growing Up Amazon Link or Billy Growing Up Book Funnel Link
See the whole series from James Minter at the Billy Growing Up Website. 
See more books of the Billy Growing Up books on FKB below
See more books for older children in this age range below.