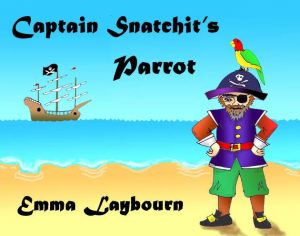 Captain Snatchit's Parrot, Neptune, finds himself kicked off the Captain's life raft after his ship sinks. Adventure, romance, and a life of bounty follow. Misfortune becomes fortune for Neptune, with lots of colourful characters, and some great lessons along the way. Other types of file format can be found at https://www.smashwords.com/books/view/170917
Text and Images from Captain Snatchit's Parrot
"Shiver me timbers!" roared Captain Snatchit, swinging his cutlass around his head. "Shiver me timbers!" squawked Neptune from the Captain's shoulder, ducking to avoid the cutlass. "There's a ship on the horizon. Raise the anchor, you scabby guttersnipes!" bellowed the Captain at his crew. "Jump to it, shark-bait!" screeched Neptune. Swearing and cursing, the pirate crew pulled up the anchor. Their boat, the Seaslug, began to lurch through the waves.
Neptune flew to the top of the tallest mast to look for the other ship.
"It's a big one!" he squawked down to Captain Snatchit. "It's the biggest scabby ship in the whole scabby sea!"
"Hoist the sails, you plug-ugly rabble!" yelled the Captain at his crew. "We'll be rich by tea-time!"
"Speed up, you lazy lobsters!" screamed Neptune.
The pirates began to hoist the sails. Neptune swayed on his high perch as the Seaslug tossed and rolled.
<end of sample>
See more Fairytale Books below