The Cat in the Ghat provides a rhyming tale of an exciting adventure in the Western Ghats.
The story is inspired by the real-life expeditions of National Geographic explorer, photographer and filmmaker Sandesh Kadur in search of the elusive Pogeyan in the Western Ghats. In the beautifully illustrated picture book, Uncle Sandy (Sandesh Kadur) searches for the mysterious cat, and meets many animals, tribesmen, and….will he meet that cat?
The book name Cat in the Ghat is no accident, it's a beautiful Dr Seuss style rhyme, where we learn more about life in the Western Ghats, and Sandesh Kadur's aim of helping people protect and appreciate nature. Each page has beautiful water colour images, befitting of the topic.
This book makes a great starting point for some nature study into conservation and about the animals and environment in the Western Ghats in India. Children could also look up more about Sandesh and his continued search for the Pogeyan.
This book is rated level 4 by Pratham, suitable for grade 2 to 3 readers.
The book is brought to us by Pratham's Storyweaver platform and is available in the creative commons (CC-BY-SA).
Sample Text from The Cat in the Ghat
This story is about an uncle named Sandy, Who likes his camera so much,
he always keeps it handy.
Let's rewind to when Uncle Sandy was a little boy,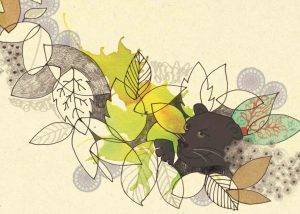 Unlike his friends,
he never dreamt of a fancy toy.
Lost in books that spoke of magical creatures, Even in class, he never listened to his teachers.
As time passed by,
Uncle Sandy became a wildlife photographer, While his friends became doctors, engineers and dance choreographers.
Uncle Sandy didn't want to work in big offices, He wanted to take pictures of snakes, crocodiles and tortoises.
So he decided to leave
his family and friends behind,
And took off to the jungles with freedom in mind. On his first expedition to the Western Ghats,
He had his first encounter with a mysterious cat. Uncle Sandy has been on its trail ever since, Hoping to click a picture of it, for evidence.
To read the full book, about Sandesh Kadur and his adventure, select the Download or Read online buttons, under the post.
See more books about Animals below
See more books about cats
All our posts are checked by Grammarly, the free online grammar checker (British English used):
This site is hosted by Bluehost:

Leave a comment (it won't be public) if you want help getting your own website cost-effectively.