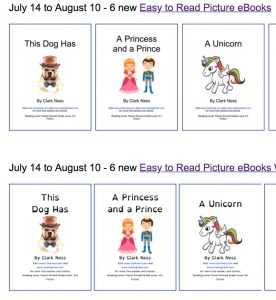 Clark Ness has an amazingly large set of learning to read books available. His site includes literally thousands of easy readers, phonics based readers, sight word books, and much, much more. This set here is just a sample of some of his work using the open dyslexic font.
The set in this post contains the following books: A Polar Bear, A Tractor Can, A Unicorn, Thankful. Download these books, or read online, free, by selecting the buttons below the post.
Visit https://www.Clarkness.com page for more free learning to read resources.
Clark Ness includes the following resources among many others on his Learning to Read site:
All totally free for download, and some even contain editable versions, and there are many more, Clark Ness says his site has over 1500 free learning to read ebooks.
Enjoy these learn to read resources for your own early readers or in your classroom!
Early readers and books designed for children learning to read are short length books with simple words and usually feature some repetition to assist in learning. See many more early readers storybooks in our Early Reader section
Cats! Provides an early reader for cat lovers everywhere. See all the cats and follow their adventures in simple phrases and words for learning and progressive readers. Cat lovers will enjoy this beautifully photographed children's picture book. Cats! is a Bookbot book, Bookbot is an app that helps children learn to read independently by listening
Written by Bel Richardson, Illustrated by Mykyta Harets
In Explorer Ella's Magic Forest we go on a magical journey through an enchanted forest all while learning sight words and phonics. Sample Text from Explorer Ella's Magic Forest Ella likes exploring. She really likes reading maps and finding new places. Ella looked at a map. The map showed no forest. But there was a …
Written by Bel Richardson, Illustrated by Mykyta Harets
In Archie Makes a Big Bang, a science theme early reader from bookbot, we follow the fun tale of an inventor and his creative inventions. This is an early reader book, aimed at introducing phonics, sound out words, and high-frequency sight words. This is another great free picture book from Bookbot – the reading app …
Written by Vidya Tiware, Illustrated by Rijuta Ghate
In Flying High, a young boy dreams he is flying high. A beautiful story for small children. The repetitive simple text  also makes this perfect as an early reader, for children learning to read. Another great Creative Commons Book fro Pratham and Story Weaver. Written by Vidya Tiware Illustrated by Rijuta Ghate Translated by Rohini …
and see more workbooks, exercises, and learning aids like these ones in our Learn to Read section.
ABC's of Biodiversity is a truly amazing alphabet. With 260 images – 10 for each letter, each with a high quality photograph, but the amazing thing is what is featured for each letter. Older children learning to read will have fun both learning to sound out words that are unlikely to be familiar to most …
This workbook is designed simply to help reinforce common sounds and high-frequency words. Using lists of common words and sounds is the basis of reading programs for emerging readers. The repetition of common high-frequency words helps immensely for those who are struggling to read or have difficulty with English spelling. It comprises primarily of lists …
A short sight word photo book based on the words "Hello seal…will you play with me?", with our favourite very cute seals, and featuring 30 common sight words, and also a nice story for bedtime. By: Zehnya Bruckert and Danielle Bruckert NOTE TO TEACHER / PARENT The words are repeated throughout the book so that children …
Little – A short book about things that are little, perfect for learning to read, aimed at young children, Kindergarten/Foundation stage and Grade 1. Another great creative commons book from Mustard Seed Books. By: Mustard Seed Books
---
Sponsored Links:
Note – if you sign up through these links, it doesn't cost you any extra, but FKB receives a small donation, which helps us move towards our aim of
FREE Hardcopies!  
All our posts are checked by Grammarly, the FREE online grammar checker (We still receive a donation even if you only sign up for the free account :-):


This site is hosted by Bluehost:

Leave a comment (it won't be public) if you want help getting your own website cost-effectively.