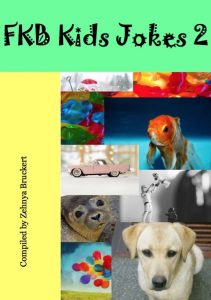 FKB Kids Jokes Book 2 is the second book from FKB featuring children's jokes. Children's joke books are fun for kids to just enjoy reading, and a short text suitable for all attention spans. A children's jokes book is also a great way to get kids reading, and is especially suited for reluctant readers since the text is quite short.
FKB Jokes Book 2 features 16 very funny jokes which kids can understand, compiled by kids for kids, this book was written by Zehnya Bruckert, age 11, and is comprised of creative commons and public domain jokes and images.
Jokes can also be a great way to improve English skills, since the understanding of the language really develops once one can understand all the different meanings of words.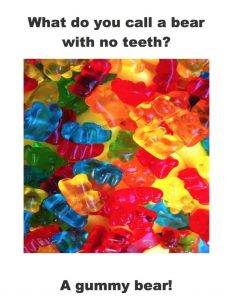 Sample Text from FKB Kids Jokes Book 2, a children's joke book
What do you call a bear with no teeth?
A gummy bear.
What animal is always at a baseball game?
A Bat.
<End of sample Joke 2 of fun children's jokes in FKB Kids Jokes Book 2>
Select read online or download to read the whole FKB kids jokes ebook, 16 fun one liners, here for free.
This is perfect reading therapy for kids that are reluctant or struggling readers, since the topics suit older kids while the language and length of text is short and simple, building confidence and preventing exhaustion. Most words are simple, interspersed with the odd one which can be sounded out, or learned from the topic.
If you're looking for more jokes or laughs, see our Humour Category.
5 Fun Bedtime Stories contains five amazing adventures. In each adventure, the centre of the story is the listener, and mysteriously for a host of reasons, the listener has forgotten, so the reader reminds them of everything that happened during the day. From aliens to submarines, underground adventures to pirates this book has it all. …
Illustrated by Nompumelelo Mdluli Written by Lebohang Masango
A fun walk through a cake contest, Lucky loves cakes, but every idea he has seems to be already taken. A sweet story about a little boy who wants to bake the best cake. Another great creative commons story from Bookdash. See more books by Bookdash in our Bookdash Category. Text From The Great Cake …
The team at Custard Castle are back with more fun-filled adventure in another four stories. Custard Castle has three hundred dusty rooms, and only seven people – not to mention a Thing that guards the treasure room… There was the King, the Queen, and Princess Fifi. There was Bella the maid, Jack the servant boy, …
Dorothy is a dancing doughnut, but she keeps hurting people when she dances. What should she do? This is the second free story in the episodes by popular author Jo Kemp. The book also has some fun activities at the end.
See more books by Zehnya Bruckert online at Free Kids Books here: https://freekidsbooks.org/author/zehnya-bruckert/.
FKB Kids Jokes 1 is a fun selection of short cute and funny jokes with pictures. A joke book is a fun way to get kids reading. Kids love jokes, and these simple kid-friendly jokes are appealing to kids of all ages. Chuckle to yourself while reading with your child, or encourage a reluctant reader to …
Dolphin Facts provides some simple and interesting facts about dolphins for early grades. A perfect book for marine lovers with short texts and lots of images. Sample Text from Dolphin Facts – Early non-fiction The most common dolphin is the oceanic dolphin. The oceanic dolphin's scientific name is Delphinidae. This is where the name Dolphin …
This book is all about pink flowers! A simple non fiction book with beautiful photographs and interesting facts about the various of flowers. The book is available in Creative Commons – CC-BY-NC (attribution, non-commercial). The book, with it's 'pink' theme, is dedicated to all those affected by and working with breast cancer, and has information …
In Zenya's Trip, a little girl Zenya details an account of a family trip to Cape Cross Seal Colony. The book includes facts about Namibia, and about seals, including a non-fiction section at the end. The text in this book is designed as an experiment for new and struggling readers and those with dyslexia.
---
Sponsored Links:
Note – if you sign up through these links, it doesn't cost you any extra, but FKB receives a small donation, which helps us move towards our aim of
FREE Hardcopies!  
All our posts are checked by Grammarly, the FREE online grammar checker (We still receive a donation even if you only sign up for the free account :-):


This site is hosted by Bluehost:

Leave a comment (it won't be public) if you want help getting your own website cost-effectively.