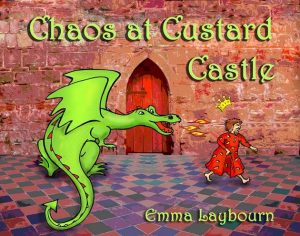 The team at Custard Castle are back with more fun-filled adventure in another four stories.
Custard Castle has three hundred dusty rooms, and only seven people – not to mention a Thing that guards the treasure room…
There was the King, the Queen, and Princess Fifi.
There was Bella the maid, Jack the servant boy, and the Cook.
And then there was Wizard Watchit, who lived in the tallest tower, and did magic spells for the others.
However, he didn't always get them right…
These four easy, humorous stories for younger children are perfect for reading aloud, or for confident readers to enjoy on their own.
Princess Fifi's Frog: Fifi, desperate for a prince, kisses a frog from the moat, but is it really a frog?
The Surprising Storm: Wizard Watchit's spells create some weird and wonderful weather…
Dragon Dilemma: The tiny dragon under the stairs has suddenly grown huge and fierce! What can the King do?
Spring Clean: Bella the maid finds a magic broom, she tries to clean but the broom has a mind of its own.
See another book from this series, The King of Custard Castle, here.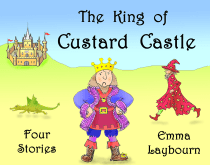 This fun elementary fiction book provides a great leisure or learning opportunity for elementary children. Emma encapsulates the essence of pure reading for joy in this book, while still providing a great resource for fiction exercises for elementary children learning to critique or studying creative writing styles and techniques.
A collection of four fun stories about the inhabitants of custard castle, including the King, the Queen, Princess Fifi, Wizard Watchit and his ghost, the maid, the cook, and the multi-tasked servant boy. All have exciting times, while learning important, subtle lessons.
About Emma Laybourn
Emma is a professional author, teacher, and librarian, with several children's books published in the UK and US.
Emma Laybourne has a large collection of fun free books, see all the other books on Free Kids Book by Emma Laybourne or check out her website, Mega Mouse Books.
If you are looking for more fantasy books check out our Fantasy Category.
Yeti's think people are imaginary, or is it people who think yeti's are imaginary? Either way in this adventure that borders on science fiction we are taken on a roller coaster ride of what happens when a yeti rescues a little girl from a car crash where her parents are killed. The story is written …
In No Ordinary Lizard, a middle-grade adventure, Ruth and her lizard Benson go on an incredible journey. If you had a secret pet who was smart enough to write you messages, how far would you go to protect him? This is the question 11-year-old Ruth Patterson faces every day. To keep her secret, Ruth must …
Dorina in the Enchanted Sea of Capri provides an exciting early chapter book for elementary school children, with a fun fantasy tale of mermaids and underwater adventure. Dorina wishes to be involved in the underwater adventures she so loves reading about. The Great Mermaid, queen of the seas, saw that Dorina was a good child, …
In Episode 2 of Pepper and Carrot, Carrot has his eyes on a rainbow potion. Is it going to be a good idea to sneak around behind Pepper's back or not? Download or read online this adapted version of Pepper and Carrot – The Rainbow potion, a popular webcomic to find out. Pepper and Carrot …
If you are looking for more humorous books check out our Humour Category.
Author: Murari Jha, Illustrator: Suvidha Mistry
The Bubble Mystery explores Toot Toot the goat's mystery adventure when she tries to find out where bubbles come from, can you guess? Young children will find the tale immensely amusing. This picture book was created by Room to Read, and this version is from Storyweaver. Download the epub version here, The Bubble Mystery epub. …
5 Fun Bedtime Stories contains five amazing adventures. In each adventure, the centre of the story is the listener, and mysteriously for a host of reasons, the listener has forgotten, so the reader reminds them of everything that happened during the day. From aliens to submarines, underground adventures to pirates this book has it all. …
FKB Kids Jokes Book 2 is the second book from FKB featuring children's jokes. Children's joke books are fun for kids to just enjoy reading, and a short text suitable for all attention spans. A children's jokes book is also a great way to get kids reading, and is especially suited for reluctant readers since …
Illustrated by Nompumelelo Mdluli Written by Lebohang Masango
A fun walk through a cake contest, Lucky loves cakes, but every idea he has seems to be already taken. A sweet story about a little boy who wants to bake the best cake. Another great creative commons story from Bookdash. See more books by Bookdash in our Bookdash Category. Text From The Great Cake …
---
Sponsored Links:
Note – if you sign up through these links, it doesn't cost you any extra, but FKB receives a small donation, which helps us move towards our aim of
FREE Hardcopies!  
All our posts are checked by Grammarly, the FREE online grammar checker (We still receive a donation even if you only sign up for the free account :-):


This site is hosted by Bluehost:

Leave a comment (it won't be public) if you want help getting your own website cost-effectively.