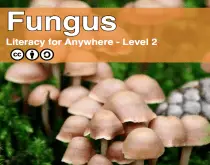 Fungus – An exciting and beautifully photographed non-fiction book about all types of mushrooms: or fungi. A great topic for school science projects. Another great Creative Commons book from Open Equal Free, categorised by OEF as Level 2, suitable for Grade 2 to Grade 3, seven to eight year old children.
By: Megan Smith, Elissa Alvey, Dane Stogner
Text and Images from Fungus – Types of Mushrooms
Fungus
Level 2
Plants and animals live on the Earth.
So does fungus. Fungus is the name for
mushrooms and living things like them.
There are a lot of different types of
fungus.
<end of sample>
See more books about Fruits and Vegetables below