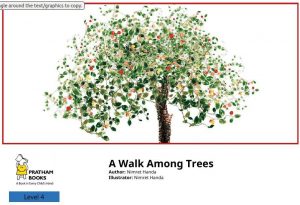 A Walk Among Trees – STEM Biology Topic for Grade School Kids Trees have been growing on our planet well before human beings appeared on it. Without their comforting shade and tasty fruit, our earth would be quite a barren place. Take a walk among trees in the King's orchard to savour the taste, the smell, and the legends associated with bountiful fruit trees in India and around the world. You will feel refreshed by all that you learn! (And quite possibly hungry too!) This book will inspire you to take a trip to the local fruit and vegetable market or farm stalls.
Written by Nimret Handa
Text and Images from A Walk Among Trees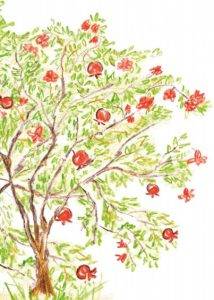 Pomegranate
It is hard to say which is more beautiful – a pomegranate fruit or
the brilliant red flower. The fruit has a deep red colour and is the
size of a cricket ball.
It has leathery skin and when it is opened, you find many red,
juicy seeds, which look as though they are made of glass. Each
seed has a woody, crunchy centre. Some fruits are yellowish pink
and have pink seeds. These are also very tasty.
The pomegranate tree grows to about three metres. The long
and narrow leaves are shiny and the branches have a few thorns.
In the spring, the tree is covered with scarlet flowers. The petals
look as though they are made of crinkly paper.
These flowers have no smell. The petals grow out of a red part
called the calyx. After the petals fall, the calyx begins to grow
bigger and bigger till it becomes a pomegranate with a crown.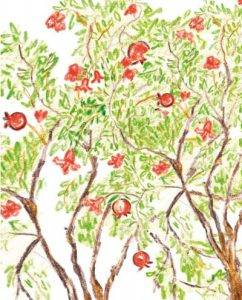 Pomegranate juice is very tasty and is taken to bring down fever.
Pomegranates contain plenty of natural sugars and vitamin C.
The dried seeds are made into sour anardana, which is a spice
used to flavour pakoras and aloo paranthas. The rind of the
pomegranate is dried and powdered and taken to cure an upset
stomach.
Pomegranates are called anar in Hindi. One of the most
renowned dancers in the court of Mughal emperor Akbar was
called Anarkali — bud of the anar — because she was so
beautiful.
Some pomegranates are called kandhari, as once they were only
grown in a place called Kandahar, in Afghanistan.
<end of sample>
About Pratham Books
Pratham Books goes digital, FKB  is helping with their aim to get a book in every child's hand!
Storyweaver, their digital platform is provided to weave a whole new chapter in the realm of multilingual children's stories. Knitting together children, authors, illustrators and publishers. Folding in teachers, and translators. Creating a rich fabric of openly licensed multilingual stories for the children of India and the world. Their unique online platform, StoryWeaver, is a playground where children, parents, teachers and librarians can get creative, using the resources to make your own unique books online.
About Creative Commons
Content under Creative Commons licenses can be downloaded, translated and can even be used to create new stories ‐ provided you give appropriate credit, and indicate if changes were made. To know more about this, and the full terms of use and attribution, please visit the following.
See more books about Nature below
See more books by Storyweaver below
---
Sponsored Links:
Note – if you sign up through these links, it doesn't cost you any extra, but FKB receives a small donation, which helps us with our project to buy more FREE Hardcopies   for kids who need them

All our posts are checked by Grammarly, the FREE online grammar checker (We still receive a donation even if you only sign up for the free account :-):