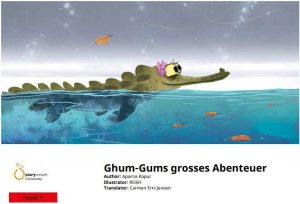 Ghum-Gums grosses Abenteuer – Ghum-Ghum Gharial's Glorious Adventure German – An adventure begins after Ghum-Ghum gets lost after having her first swim on the Gange river. Fearing the worst she begun seeking her father asking the animals she meets along the river. Ghum-Ghum is a young Gharial crocodile.
Author: Aparna Kapur, Illustrator: Rosh
Text and Images from Ghum-Gums grosses Abenteuer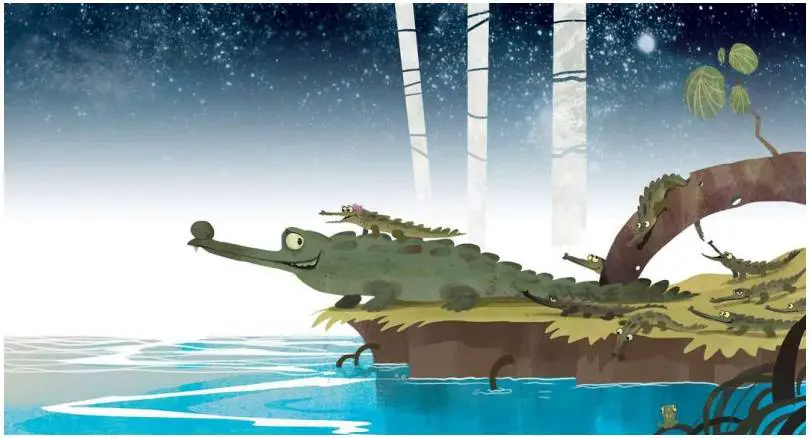 Ghum-Ghum war aufgeregt. Sie durfte das erste mal schwimmen gehen.
"BBRRRAAAP! GHRRUMB!" sagte ihre Familie, die auch ganz schön aufgeregt war.
Ghum-Ghums Schnauze berührte das Wasser und … PLATSCH!
Schnell war sie vom Wasser umzingelt.
Ghum-Ghum strampelte mit ihren Füssen und wedelte mit ihrem Schwanz.
"Schau, Papa! Ich schwimme! Schau …!"
"… Papa?" Ghum-Ghum sah sich um, guckte nach vorne und nach hinten. Sie schaute nach rechts, und dann nach links. "Papa?" Aber sie war alleine. Ihre Familie war schon weitergeschwommen. Ohne sie.
<end of sample>
Read the full book by selecting one of the buttons below the post.
Ghum-Gums grosses Abenteuer English version below:
Read the book in English here.
See more books in German below