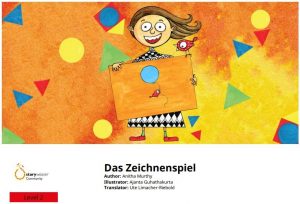 Das Zeichnenspiel – The Drawing Game German – An early Geometry book for children. In this story children will learn more about shapes counting it sides and how to use shapes to draw. This book is perfect to help develop young readers imagination and creativity. This is a Level 2 books from Pratham's Storyweaver.
Author: Anitha Murthy, Illustrator: Ajanta Guhathakurta
Text and Images from Das Zeichnenspiel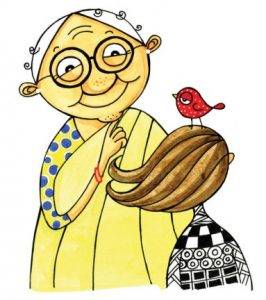 Jeenu verbringt ihre Sommerferien bei ihrer Großmutter. Sie hat da keine Freunde. Sie langweilt sich.
"Spiel mit mir, Ajji!" sagt sie.
Ajji sagt: "Geh und hol ein Stück Kreide. Lass uns ein Spiel spielen."
Jeenu ist aufgeregt. Was für ein Spiel will Ajji spielen? Ajji zeichnet eine Form. "Kannst du raten was das ist?" fragt sie. "Es ist ein Kreis." Jeenu schneidet eine Grimasse. Sie mag dieses dumme Spiel nicht.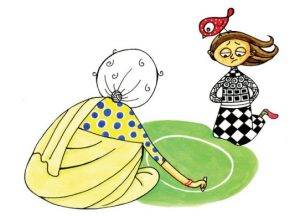 "Ja, aber es ist mehr als das" , sagt Ajji. Jeenu denkt nach, dann lächelt sie. "Es ist ein lächelndes Gesicht!" , sagt sie. Ajji klatscht in die Hände. "Du hast das Spiel verstanden!"
<end of sample>
Read the full book by selecting one of the buttons below the post.
Das Zeichnenspiel English version below:
Read this book in English here.
See more books in German below